A lifetime of Frame and Truss
Mark Strawbridge, Detailer Manager at Placemakers in Harewood, Christchurch, has been in the industry for over three decades. Now leading a high-performing team of other detailers, we spoke to Mark about his passion for the industry and approach to managing others.
"I started out making frame and truss manufacturing on the floor in a factory in Nelson. When the detailer at the business left, the owner approached me to take over his role. While it was a bit of a learning curve, I have never looked back."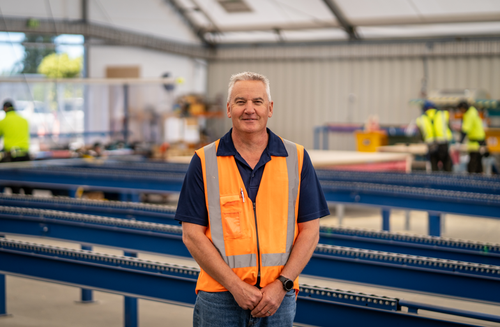 Frame and truss detailers interpret plans and drawings to create layout plans and cutting lists. Frame and truss manufacturers process the plans.
Mark currently has four BCITO qualified staff working for him, alongside another two who are close to finishing their apprenticeship. He says it is important to celebrate these milestones.
"When my final two finish their apprenticeship, we will have a team celebration. We will put on a big smoko shout, and our BCITO Training Advisor Nicky will come down to present the boys with their certificates. We'll take photos and draft a story for our internal newsletter."
Mark also encourages his employees to prioritise work-life balance and regularly gives advice in all areas of life, both professional and personal.
"I am a family man myself and understand the need to get home to the kids. When it's the school holidays, I let my staff work at home, or take time off to spend with their families. While work is important, family comes first. Respect is a two-way street, I respect my employees, and they respect me."
Mark has a mild case of dyslexia but hasn't let it affect his career. If anything, it has taught him to both learn and teach better.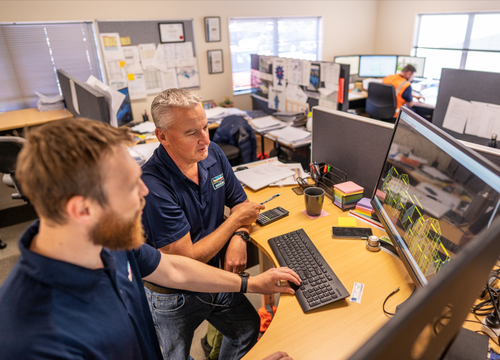 "I need to be shown, not told, how to do something in order to learn. By following this approach, I have come a long way. I came into this business not knowing mathematics particularly well, but now I manage a factory where we are constantly using angles and measurements to build frame and truss. Now I have a team of probably the best detailers at any PlaceMakers. When people come on board to learn with us, they usually love it, and stay."
Aotearoa New Zealand wants more people from all backgrounds to consider a career in the trades. To learn more, head to https://bcito.org.nz/apprentices/.
More News
Wood Solutions have been carving out the way for sustainable practices and diversifying their workforce. They are minimising and repurposing waste and create a healthier and more welcoming workplace where 1/4 of their workshop are female.
Jenna Toailoa and her husband Manu's RedRock Plastering has been making a name for themselves with their high quality work all the while taking on apprentices, showing it can be done!