A lifetime in his trade
For Simon Thelning of S A Thelning Brick & Blocklayer Ltd there has been one consistency in his working life, that is the brick & block industry.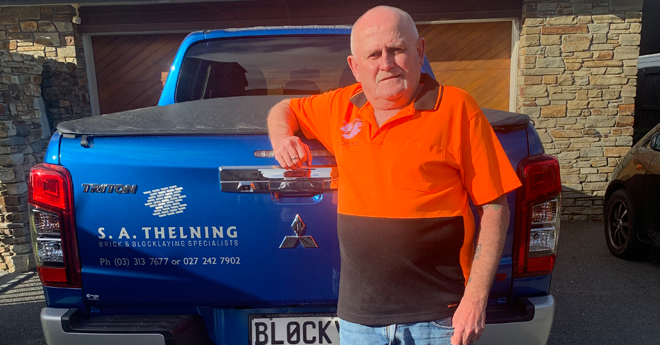 "I left school at 15 to start an apprenticeship in Timaru and by the age of 19 I was trade qualified. 44 years later and I am still heavily involved in the industry," Simon said. After qualifying Simon took his skills to Australia where he worked for a couple years before returning to Timaru and the company he completed his apprenticeship with. "After 2 years back in Timaru the boss decided to pass on the business to myself and another employee. We carried on with the business for about 3 years before I returned to Australia to carry on working in the industry." 
Upon returning to New Zealand Simon decided to work for himself and started S A Thelning Brick & Blocklayer Ltd, this is where he took on his first apprentice as well as two other tradesmen. There is a real family feel to the business as well which Simon is proud of, "Nowadays my eldest son has become a director of the company and my youngest son and brother also work for the company. We also trained my brother's two sons who now run a business in Hamilton." Currently the company has 18 employees, but have employed around 350 staff over the years specialising in both the residential and commercial aspects of the brick & block laying industry. There are three apprentices training with Simon and the team but over time they have put through 25 plus apprentices which includes two women.
Simon is a firm believer in training within the brick & block industry, believing it is most important for the survival of the trade as a lot of older people will be leaving the industry in the near future. "If the training does not continue there will not be enough people left to service the industry in the future which may result in designers starting to use alternative materials." Simon believes there is no better time than now to start training your staff as the recently announced government initiatives mean fees are free for apprentices, and there is also financial support available for employers training apprentices.
As well as training a number of apprentices over the years, S A Thelning Brick & Blocklayer Ltd are members of the New Zealand Masonry Trades Association (NZMTA) who Simon says are a great support to the industry. "They regularly supply up to date information in regards to any changes to building standards, codes, local council regulations and any new products. They also run regular local meetings and workshops to keep members up to date." In the last year Simon has also taken on the challenge of being a part of the NZMTA Board which he says "has been a learning curve for myself but an enjoyable one." We thank Simon and his team for their dedication in continuing to upskill the brick & block industry.
More News
The Building and Construction Industry Training Organisation (BCITO) has set a record of 16,000 apprentices in training.
Have you heard? – the NAWIC Excellence awards 2021 are happening and open for nominations!