Making rocket parts for space
If we told you that skills and knowledge learned in the Resin industry could enable you to build parts for rockets that are sent into space, would you believe it? You should because it's true and is something that Royce Baxter of FI Innovations has experienced working in the Resin industry.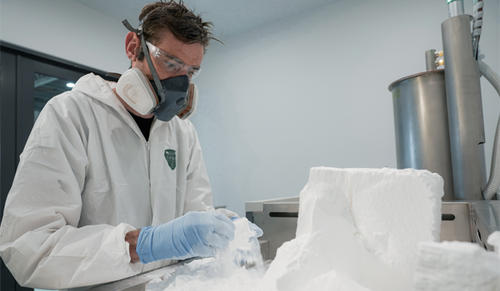 Life has been an adventure for Royce, starting with moving from the wild West Coast aged eight to New Zealand's most southern city - Invercargill. None of Royce's family had ever worked in the construction sector, and Resin was unknown until Royce accepted a job with FI Innovations.
Royce started as a composites technician. The position mainly involved producing dashes, foredecks, and recess panels for Stabicraft Carbon Series boats. He was fortunate to learn nearly all aspects of composite production through his apprenticeship. His tasks included resin infusion of seats and panels and many more varied composite production jobs.
The experience he gained working with carbon fibre helped him secure a job at Rocket Lab.
The Rocket Lab team is driven by making life on earth better. They say space is the ultimate high ground. The era of small satellite technology provides companies, researchers and entrepreneurs with new perspectives on the challenges facing our planet and enables global collaborations to manage resources for future generations.
Royce's role at Rocket Lab was quite different from what he was doing at FI. At Rocket Lab, he was a Composites Laminator. The production process was different, but he says, "There were aspects that were transferable between the two roles."
The most extraordinary project he had was the opportunity to work on the production of several nose cones of the Electron rockets. Royce says, "It was satisfying to know I had contributed to producing the very tip of the rocket. There were many more parts on the rockets that I was able to produce, and it was always rewarding to make a quality part that would go to space."
Innovative people are Royce's magnet, and he returned to FI after his time at Rocket Lab.
Royce's current career milestone involves learning how to process parts from 3D additive manufacturing. He says, "I am continuing my apprenticeship and working alongside other staff to produce and repair composites. We recently assembled the Splash Palace swimming pool hydro slides, and I am currently working on a complete restoration of a Land Rover canopy.
"FI is a place of exploration and, like Rocket Lab, it is a pioneer in innovation and technology.
"I have also enjoyed producing parts via resin infusion that were being trialled for effectiveness at Balance Agri-nutrients in Southland. But hand on heart, one of the most rewarding projects completed was a simple repair to a caravan sink. It was my understanding that the customer lived in the caravan requiring the repair. The projects I get the most out of are those that improve the quality of life for customers.
"I love being back in Southland and working with a talented group of colleagues. Every day, I admire the knowledge and skills of the team. I am still learning, and it's great to have like-minded skilled workmates to learn from."
More News
We have put in place a vaccination policy and process that allows us to protect everyone and meets the requirements of the Covid-19 Protection Framework (traffic light system).
New Zealand Master Joiners Otago Chapter, BCITO and the National Kitchen and Bathroom Association have been holding a graduation ceremony for Joinery and Kitchen Design apprentices for ten years.