The man who wants to buy a waterfall
Joehan Ewen has a dream - he wants a waterfall.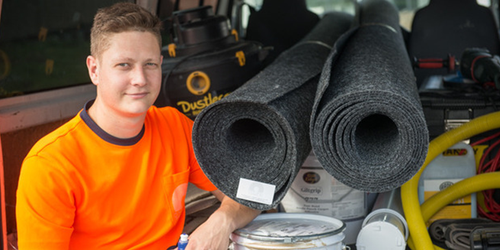 To be exact, he has his eye on a piece of land near Warkworth with a waterfall on it. It's not for sale, but the 21-year-old dreams about the day it will be his, a place of solitude away from the rat race.

At an age when many of his peers are still studying or focused on having fun and heading away on their 'OE', Ewen has completed an apprenticeship, set up his own carpet laying business, employed an apprentice of his own - and believes hard work will help him get that land with the waterfall.
"I would like to get myself some land with cattle and sheep," he says. "I often drive past this place near Warkworth which has a waterfall. I've definitely got my eye on it.
"I'm not really into going out and partying. I don't mind it, but there are better things to do and when I do go overseas I want to enjoy it, I don't want to do it with no money.
Ewen did his apprenticeship with the Building and Construction Industry Training Organisation (BCITO), a body hoping to attract more apprentices through the Not Your Average Tradie Road Trip launched in April.
The trip involved a group of BCITO apprentices travelling the country to help community groups, schools and charities with building projects.
Running over four weeks, it's aim was demonstrating job opportunities in the construction industry at a time when it is facing a severe shortage of skilled trades. Up to 50,000 more workers will be needed in the next five years as the building boom continues and about half of those will need to be qualified tradespeople.
Ewen says he has always wanted a business of his own. "My dad runs his own IT business, so I think it came from there. I originally thought about building as both my grandfather and uncle are builders.
"I fell into carpet laying when I got a school holiday job working for a flooring business. I enjoyed it so thought I might as well do an apprenticeship," he says. "It took me two years, but I learnt a lot."
Armed with a National Certificate in Flooring, Ewen set up his own business, Optimal Flooring. Based in Silverdale, his work comes from contracting to flooring retailers and direct sales.
He has been so busy, Ewen hired 17-year-old Stefan Oosthuizen straight from Orewa College last November as his off-sider. "I told him I would teach him all I know and he has enjoyed it so much he has signed into a BCITO apprenticeship as well.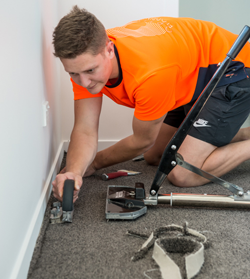 "We work hard but do no more than eight or nine hours a day. There is no point in working until you're dead and I couldn't expect others to do longer hours otherwise they wouldn't want to work for me, although we often work six days a week," he says.
Although he says he wants to make good money, he also wants to be able to go home each day and know he has done a good job.
"My plan is to get this business well established and then maybe look at getting into management of big-build construction projects as I love working with people and I'm always up for a challenge. I think a healthy income is relatively achievable with what we are doing, I'm sure I can get it to that point."
BCITO chief executive Warwick Quinn says about 10,500 apprentices are currently in training. But with building consents running at a 40-year high thousands more are needed.
"This skills shortage, while being felt throughout New Zealand, is most acute in the Auckland, Waikato and Tauranga regions," Quinn says. "Consents have continued to grow and are up 2.3 per cent in the first two months of 2017 compared to the same period last year.
"While it is still early days, if this trend continues and 2017 exceeds the 31,423 new residential consents issued in 2004, it will be the busiest year since the mid-1970s. This boom is expected to last many years and job prospects are excellent."
The tradie road trip was designed to attract new apprentices and demonstrate the possibilities of a career. A group of up to 10 apprentices worked on projects in Auckland, Tauranga, New Plymouth and Wanaka and cover carpentry, flooring, interior systems, joinery, pre-cast concrete and painting and decorating.
Among the groups being helped were schools, a surf club, a health and social services provider and Habitat for Humanity, a non-profit group which builds and repairs houses for people in need.
"This is a fantastic opportunity to show people what a career in the trades offers," said Quinn, "while also supporting our local communities."
More News
The Building and Construction Industry Training Organisation (BCITO) is pleased that the Government is moving quickly to establish the first construction Centre of Excellence (CoVE).
BCITO comes on board this season to become the front of jersey and official sponsor of the Waikato Under 19s team.