Mana in Mahi a winner says Master Painter
Gavin Lambert, New Zealand Master Painter of the Year 2019, knows a good worker when he sees one and he reckons taking on 22-year-old Yonier Moralas as an apprentice, through the Mana in Mahi programme has been a winner.
It all started with a chat with MSD Work Broker Joey Weiss-Kirby, when she suggested Yonier, a former refugee, as a young man with heaps of potential.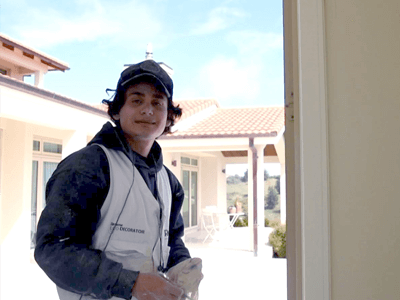 Gavin agreed and six weeks on, he says it's been a great move. "Yonier is a quick learner and a hard worker. With the Mana in Mahi programme offering a subsidy – I can, as a small business owner, afford to give him an apprenticeship and the time that takes to teach someone the trade, without it impacting too much on my business income."
"I know a lot of small business owners like myself would love to get on the Mana in Mahi programme, so the more people that know about it – the better," he said.
Yonier arrived in New Zealand with his family nearly three years ago and says he is really enjoying working and learning the trade.
"I like painting (even the sanding) and it is nice to get money in my pocket. Gavin is very kind and is teaching me many things. And in this work, you go to different places all the time and that is good."
Gavin says the hardest thing about Yonier working with him is getting him to stop for lunch. "He's a real hard worker and a quick learner."
"My message to other employers, especially people like me with a small business – is that Mana in Mahi is the best thing around to help your business. I started out as a painting apprentice when I was 15 and went on to own my own business. Yonier and others like him can do the same."
Under the Mana in Mahi programme, employers committing to training a young person can receive funding to help them cover the costs of the downtime needed to teach someone new skills.
Interested employers can contact Ministry of Social Development Work Brokers. 
More News
The Government has announced a $12.1 billion COVID-19 Economic Response Package for small to medium businesses and employees during this period of uncertainly.
The health and wellbeing of our industry's employers, apprentices, and our people are of paramount importance to us.