More rewarding than usual
When you think of concrete placing, the first things that spring to mind are driveways and house slabs.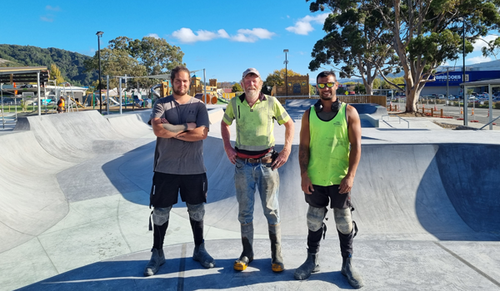 Concrete placing is so much more than that. Projects like a local skate park provide communities with a hub where people from all walks of life can exercise, hang out, and develop their wheel skills.
Angus McMillan and his team have been working on the Maidstone skate park in Upper Hutt for the last six months, and next in the pipeline is Newlands, Wellington. On Angus' skate park team are Kayne Taylor and Matt Potts, who both have years of experience in the concreting industry and are now working towards their Placing & Finishing qualifications.
Kayne and Matt have been doing skate parks with Angus for several years, and they enjoy working on them for various reasons.
Kayne says, "I like the feeling of accomplishment at the end of each skate park. Getting the transitions right on the bowls is the most difficult part of the job. We have to get up on ladders to do the screeding because of the curve, but it looks great when it's done."
"It's more rewarding than the usual stuff. The amount of work that goes into it makes you think, wow, that was worth it," says Matt.
Kayne and Matt believe the work is important even beyond being an interesting job opportunity. "If you look at the other skate parks we've done, they're widely used," says Kayne, "Small towns really benefit from these facilities." Kayne and Matt value what they get to give back to the communities they work in.
These jobs can be tough, but that is something that Kayne and Matt thrive on. Angus believes in mentorship and self-development. He often brings less experienced staff onto the skate park team to give them a chance to experience tougher work and give Matt and Kayne a chance to pass on their skills.
Matt notes that the younger staff really have their eyes opened when they join the skate park team. He says, "The thing that gets them is having fewer smokos because the work is so flat out."
When working with the team, Angus believes that group input is key to solving tricky problems. "I never tell them how we're going to do it because these people have great ideas. Kayne and Matt have years of experience, so they really know what they're doing," says Angus.
The team has several skate parks coming up but are eagerly anticipating the Gisborne skate park, including a 3.6-metre deep bowl making it New Zealand's largest.
More News
We have put in place a vaccination policy and process that allows us to protect everyone and meets the requirements of the Covid-19 Protection Framework (traffic light system).
New Zealand Master Joiners Otago Chapter, BCITO and the National Kitchen and Bathroom Association have been holding a graduation ceremony for Joinery and Kitchen Design apprentices for ten years.