Surveys launched to get more women into the trades
Trade Careers Press Release: 14 April 2021
Trade Careers is launching two nationwide surveys on Wednesday 14 April to understand more about why women are not entering trade careers and what may be preventing employers in the trades from hiring more women.
To date, 22,000 women have lost their jobs in New Zealand due to COVID-19.
Women makeup half the population yet in total there are only 13.5% of women in the trades including in administrative roles.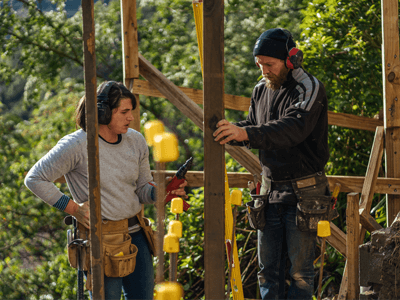 "We think these percentages need to be a lot higher," says Toby Beagehole, Chief Executive, the Building and Construction Industry Training Organisation (BCITO).
"At Skills, we have seen an increase in female apprentices overall but those numbers could still be higher," says Garry Fissenden, CEO Skills. "We want women to see that it's not just a great career for the lads. It provides real career opportunities for women, too – and many of those businesses that take on our female apprentices, just love their attitude. We are excited to see more women taking those opportunities, too."
Trade Careers is the first project of the newly formed Women in Trades Collective (WITC) and is supported by BCITO, Connexis, Skills, and Competenz and funded by the Tertiary Education Commission.
Auckland Tourism, Events and Economic Development (ATEED) estimates there will be 56,000 new jobs in construction by 2029 — far more than the 24,000 jobs created in the past decade.
"Having more women in the trades will play a big part in meeting the long-term skills shortage in the industry. Unfortunately, for many women, entering the trades is easier said than done.' says Fiona Kingsford, Chief Executive Competenz
"This project has the opportunity to radically change the industry and improve the lives of thousands of women, their families and our communities. We believe that by working together with both women, who have lost their jobs due to COVID-19, and employers we can develop innovative solutions to increase women's participation in the trade workforce," says Kaarin Gaukrodger, Chief Executive of Connexis, the Infrastructure Industry Training Organisation.
"We encourage women who are thinking of retraining or who have lost their jobs due to COVID-19 to take the survey. Employers, we are relying on you to help us get it right,' says Toby Beagehole.
The survey runs from 14 April - 7 May.
For more information please visit www.trade-careers.co
Contact: Angela Meyer
Trade Careers Project Manager
Phone 021 405 619

ENDS
---
Further information
When looking at the differences between the March and September 2020 quarters, the true impact of COVID-19 on women's employment becomes clear — and the figures are concerning.
Since March 2020, when the impact of COVID-19 was first felt in New Zealand, the seasonally adjusted number of people in employment fell by 31,000. About 70% (22,000) of these people were women. This disproportionate impact was captured in the Stats NZ June 2020 quarter data, which showed that of the 11,000 people who lost their jobs, 10,000 were women. Women are especially vulnerable this time around; over 60% of retail workers and over 70% of hospitality workers are female.
The decline in female employment since March 2020 stemmed primarily from job losses within the tourism industries, including accommodation, travel agencies, sightseeing operators, and cafes and restaurants.
Statistics New Zealand's latest tourism satellite accounts show that the blow to tourism has disproportionately affected Māori women. There were 4,000 fewer Māori women employed in tourism industries in the June quarter than a year ago – a whopping 20.5% drop. With closed borders and potential future limitations on domestic travel, it wouldn't be a stretch to predict that the country will see more Māori women losing their jobs in the near future.
At present there are only 1,139 women in apprenticeships and managed apprenticeships in the construction sector and an overall percentage of 3.2% of the total 35,428 people who enrolled between the start of 2019 and now.
More News
We now have 20,000 apprentices in training. To mark this milestone, Education Minister Hon Chris Hipkins and our CE Toby Beaglehole visited a Holmes Construction housing project.
Shevonne Evans of Gateway Glass & Aluminium is the first woman ever to complete four BCITO qualifications.