Morgan Wills comes out on top
in Master Builders CARTERS 2019 Apprentice of the Year competition.

Press Release issued 9 November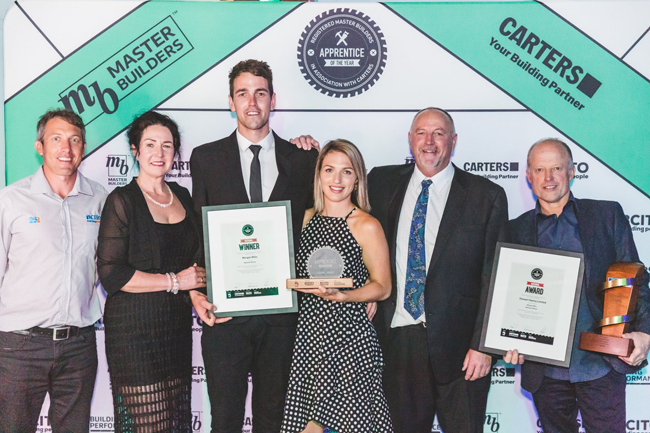 Proudly representing their respective regions, nine finalists from around the country were put through their paces in interviews and then challenged to create a playground pirate ship for Early Childhood Education Centre charity, BestStart in their quest to win the national title. 

In a faceoff against eight of New Zealand's top carpentry apprentices, Morgan Wills has taken out this year's Registered Master Builders 2019 Apprentice of the Year, in association with CARTERS national competition. 
Winning the title of New Zealand's 2019 Apprentice of the Year, Morgan Wills, 23, is proudly from Hamilton and is currently employed by Stewart Hanna Ltd, after completing his training with BCITO. 
The three judges and building experts said "Morgan led from the front on both days. During the interview Morgan provided excellent commentary and detail, showing a thorough understanding of his project overall. During the practical, he demonstrated a high level of attention to detail. With a clean and tidy site throughout, Morgan also received full marks for the safety component of the competition."
The two-day competition involved a 45-minute interview with the judging panel, and a practical challenge held at Auckland's ASB Showgrounds.  
Master Builders Chief Executive, David Kelly says, "It was great to see the apprentices demonstrate such a high level of skill so early in their careers. 
"For 15 years, the competition has been showcasing and rewarding the best of our industry's apprentices. Each apprentice has demonstrated an extraordinary level of craftsmanship, knowledge, and hard work throughout the competition and we hope these future industry leaders act as an inspiration to those looking to join the industry." 
In a first for the competition, each finalist was tasked to build a playground pirate ship as part of the strenuous six-hour practical challenge. These nine pirate ships will now be donated to low socioeconomic Early Childhood Education Centres (ECE) in Auckland next week, through New Zealand-owned charity, BestStart. Children from these local ECEs also gathered to support their nominated apprentice before the delivery of each pirate ship to their assigned playgrounds.
BestStart Professional Services Manager, Nicole Butler expresses gratitude and says, "We are delighted to receive these outstanding pirate ship playgrounds made by our country's top apprentices and we can't wait to see the children's surprised reactions when they are delivered." 
Runner-up went to Jason Helsby, 22 from Auckland, with Jay Pope, 29 from Nelson being awarded third place. All finalists along with their employers, family and friends celebrated their success at a gala awards dinner, hosted by Paralympian, Liam Malone. 
In response to the shift in the number of New Zealanders changing careers and joining the trades later in life, this year's competition raised the entry age from 27 to 30. This welcomed participation across a broader age range, with four of the nine finalists between the new 27-30 age range.  
The competition is also an opportunity to acknowledge the employers who invest in apprentices to meet the growing demand.
Kelly continues, "On-the-job training gives apprentices the best chance to kickstart their careers, and it's great to see many companies entering their apprentices into the competition. With the industry currently facing a skills shortage, the value of an apprenticeship has never been higher, and we appreciate the employers who continue to invest in young talent." 
Supporting the competition since its establishment is principal sponsor CARTERS. Chief Executive, Mike Guy says it's been fantastic to be involved in supporting the development of thousands of young talented apprentices over the years, and then seeing them go on to have successful careers within the building industry.  
"Our partnership with Apprentice of the Year reflects our commitment to supporting the growth of New Zealand apprentices and ensuring we provide them with the tools, mentoring and training they need to succeed. Attracting young talent to the industry is essential to the success of New Zealand's booming construction sector," he says.
"We congratulate Morgan and all the finalists for their commitment to the industry and we look forward to seeing them thrive in the industry."
The Master Builders Apprentice of the Year competition is made possible thanks to principal sponsor CARTERS, the Building and Construction Industry Training Organisation (BCITO), and supporting sponsor Building Performance, as part of the Ministry of Business, Innovation and Employment (MBIE).
For more information, visit Apprentice of the Year
ENDS
For more information or to arrange an interview, please contact Maxine Glogau 027 373 6432
About Master Builders 2019 Apprentice of the Year, in association with CARTERS
The Master Builders Apprentice of the Year, in association with CARTERS, aims to recognise excellence among carpentry apprentices and raise awareness of career opportunities in the building and construction industry. It's a competition that looks to test several aspects of a well-rounded apprentice, not just your skills on the tools.
Morgan Wills has received a range of great prizes to acknowledge his win:
The use of a brand new Nissan Navara for one year, proudly provided by CARTERS.
CARTERS Business Tools Grant - $5,000 to further their career.
Travel, accommodation and tickets to attend the Master Builders House of the Year national awards gala dinner on the 23rd November.
$2500 towards NZQA approved professional development supplied by Building Performance, part of MBIE.
Master Builders 2019 Apprentice of the Year, in association with CARTERS National Finalists 
Jason Helsby, 22, from Auckland, employed by Catalyst Construction Ltd and trained through BCITO.
Morgan Wills, 23, from Hamilton, employed by Stewart Hanna Ltd and trained through BCITO.
Jesse Compton, 29, from Hastings, employed by Hislop Construction and trained through BCITO.
Cameron Diack, 23, from Mount Maunganui, employed by Jones Builders and trained through Toi Ohomai Institute of Technology.
Todd Sutton, 24, from Marton employed by Richard's Construction and trained through BCITO.
Liam Crivello, 21, from Lower Hutt, employed by Matthew Palmer Construction trained through BCITO.
Jay Pope, 29, from Nelson, employed by Mudgway Construction and trained through BCITO.
Mark Smith, 29, from Christchurch, employed by Premium Homes and trained through BCITO.
Ryan Duffy, 28, from Dunedin, employed by W Hamilton Building Ltd and trained through BCITO.
About BestStart
BestStart is a charitable organisation, helping families with the costs of caring for young children. They have qualified teachers who work with the New Zealand early learning curriculum. This year they have been recognised by Reader's Digest readers, who awarded them with the Gold Quality Service award. 
BestStart Kindergartens receiving the donated pirate ships: 
BestStart Marne and Onslow – made by Auckland/Northern winner, Jason Helsby
BestStart Papakura East – made by Waikato winner, Morgan Wills
BestStart Tironui – made by Bay of Plenty/Central Plateau winner, Cameron Diack
BestStart Kenderdine – made by Hawke's Bay/East Coast winner, Jesse Compton
BestStart Maich – made by Central North Island winner, Todd Sutton
BestStart Stoddard Rd – made by Lower North Island winner, Liam Crivello
BestStart Johnstones – made by Upper South Island winner, Jay Pope
BestStart Weymouth – made by Central South Island winner, Mark Smith
BestStart Onehunga – made by Southern winner, Ryan Duffy
More News
PRESS RELEASE 14 MAY 2020 - Speaking today after the announcement of the Budget and the $1.6 billion Trades and Apprenticeships Training Package, Warwick Quinn, BCITO Chief Executive congratulated the Government.
A summary of the meeting held on 7 April.