Online learning takes off with myBCITO
Building and Construction Industry Training Organisation (BCITO)'s online learning management system, myBCITO, has seen rapid growth during the COVID lockdowns.
Launched during the first lockdown last year, the system is now accessible to more than 21,000 apprentices as they build their careers in construction.
myBCITO was launched to deliver more frequent and engaging training experiences for learners. Previously, apprentices were visited by their training advisor once a quarter. Now, they have online engagement with their training advisor at least 12 times a year as well as scheduled site visits (Covid alert levels permitting).
According to Kāpiti Coast carpentry apprentice Kieran Stephenson, myBCITO has provided him with clearer feedback, which helps him pick up new skills faster.
"Once I feel I've mastered a skill, I upload evidence of this to myBCITO, which my training advisor quickly responds to. It means I get the feedback I need immediately and I can make progress quicker."
Apprentices can now upload pictures and videos demonstrating their learning progress. Their training advisors are notified, and after reviewing the submission and consulting with the employer, can set up a site visit to confirm the apprentice as having acquired commercial competence in an area. Apprentices are also provided with a percentage score reflecting their progress through the qualification which their employers can also view on myBCITO.
Mark Thompson, Director of Fairfield Construction, says that myBCITO makes it easier to track the progress of his four apprentices.
"It helps our apprentices track their progress and tick-off new skills. And I get to see their submissions and can assist them to progress through their training."
While the platform has seen strong uptake since its launch, it experienced a surge over the recent national lockdown, at over 1.2 million views in a week. With limited practical work available at COVID alert levels three and four, apprentices used the time as an opportunity to focus on their theory.
Stephenson was one of these apprentices who did his bookwork during lockdown.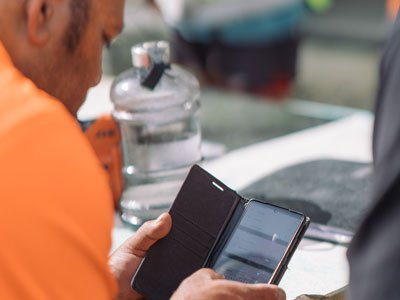 "Because I couldn't be out on site, I thought lockdown was a great opportunity to do my theory. With myBCITO I was able to read up on and learn what I needed. Then once I was back at work I could apply it in a practical setting."
myBCITO is based on the online learning management system Canvas and has been tailored for apprentices and their courses. The application also translates into 65 languages and supports people with learning disabilities.
BCITO needs more skilled and determined people to become tradespeople. Find out more about how to get started and what support and opportunities are out there for you.
More News
New Zealand Master Joiners Otago Chapter, BCITO and the National Kitchen and Bathroom Association have been holding a graduation ceremony for Joinery and Kitchen Design apprentices for ten years.
New Zealand Master Joiners, the National Kitchen and Bathroom Association and BCITO have worked together to recognise Joinery and Kitchen Design learners in Otago.