New factory leads to new people wanting to train
by Peter Wilson, Manufacturing Manager, Pine New Zealand Group Ltd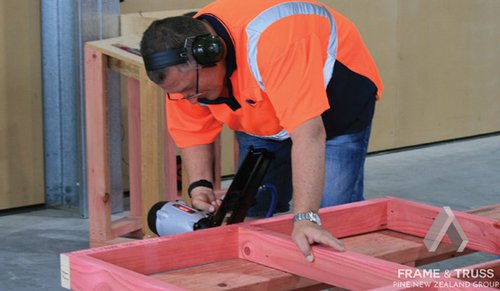 The Pine NZ Group commissioned its new Frame and Truss manufacturing facility in February 2021 and from the outset, we had identified the need for either qualified or "wanting to be qualified" Frame and Truss Operators. This desire was reflected in our Job Description and Desirable Skills Requirement documentation.
Initially, we tried recruiting experienced operators via usual methods but had very little success, so we had to take a different approach having only had one person respond. We managed to get a couple more people who had been made redundant from a local manufacturing business. They were older, had good work ethics, and were keen to learn.
We then contacted BCITO and utilised their job matching service as we were keen to find people who were after a career in our industry (or to use us as a pathway to other careers within the building industry). What was important to us was to have people who were willing to learn and wanted a career. Age or gender was not a barrier – what we needed were people who lived locally, were physically fit, and had transport!
Through word of mouth, we were able to secure several more. The lure of inside and regular work in a brand-new facility helped but the ability to gain a qualification tipped the balance. Most of the people we have employed did not have any level of qualification. Within the group of people who did hold qualifications, their qualifications were unrelated to frame and truss.
We sat the team down with the BCITO and they saw that they could gain an NZQA qualification while at work and being paid. Eighty percent of the team signed up. This included two in their fifties and a younger guy with a University Degree in Maths and Physics! They all recognised the value to them of being qualified. The qualification also brings the team closer together as they have a shared goal. It also showed them that they had the support of their manager and that they were valued as an employee as they were being encouraged to get qualified. After all, any qualification is theirs and not the employers.
We are here to encourage and develop our team so that we produce a quality product for our customers. Having a team in training or qualified just makes sense! It can only lead to one thing – a better business!
More News
Press release 18 October: Te Pūkenga is commencing engagement on its proposed Operating Model today.
Te Pūkenga adds building and construction to its toolbelt today, as the arranging training functions of the BCITO were transferred to Te Pūkenga Work Based Learning Limited.