The New Zealand Concrete Contractors Association Conference 2019
In September a hoard of concrete contractors swarmed on to the site of the Villa Maria Winery in Mangere, Auckland, to showcase their skills as part of the 2019 New Zealand Concrete Contractors Association Conference.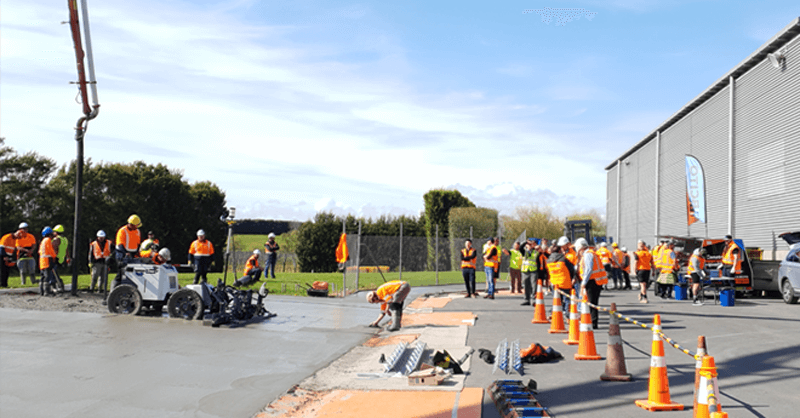 An early morning barbecue of bacon, lettuce and tomato provided by BCITO gave the steel fixers energy as they prepared the steel mesh and proprietary jointing systems. Once the delegates had arrived the concrete began to flow. Eight concrete ready-mix companies donated concrete for the large outdoor distribution area.
Several companies from around the country had volunteered to lay the concrete. They demonstrated their vast array of skills, showcasing some of the equipment commonly used in the Concrete industry including concrete pumps, laser levelled remote control surface screeders, ride-on surface floats and power trowels. 
It was fascinating watching the mix of traditional concrete placing and finishing skills combined with the use of modern technology. A large crowd of onlookers gathered to watch the unspoken competition between the crews who ended up working together to finish the slab.
Many employers and suppliers from the industry attended the event to hear about, and discuss, product developments and the latest concrete research. 
The event finished with an evening dinner and prize-giving which saw a number of technically challenging and skilful projects highlighted which had been completed by members of the New Zealand Concrete Contractors Association (NZCCA).
What I really enjoyed about the event was the feeling of camaraderie amongst people who work in this particularly demanding industry. For many of them the trade has been passed down through generations of family. The importance of training and passing on of skills was high on the agenda as members of the NZCCA challenge each other to reach new heights of expertise and celebrate each other's successes. 
Well done on a successful conference and thank you for inviting me.
More News
The Government has announced a $12.1 billion COVID-19 Economic Response Package for small to medium businesses and employees during this period of uncertainly.
The health and wellbeing of our industry's employers, apprentices, and our people are of paramount importance to us.