Nicola trades up for a career in Tiling
Nicola Ramanauskas was working in a compost factory but now she has found a career she's passionate about in the tiling industry.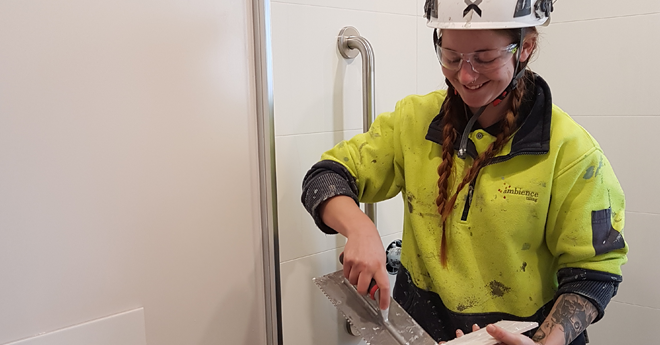 Nicola says, "Life in the factory was getting to me and I decided I needed a change. I was looking for a career instead of just a job. I wanted a job that I could progress in and tiling caught my attention because it's an artistic trade." While job hunting Nicola came across an ad on TradeMe and decided to apply. It was here that she would meet her future employers, John and Janet Turner from Ambience Tiling Ltd. 
John says, "Nicola was the first apprentice we've taken on who wasn't from a tiling background. She's also our first female apprentice. We interviewed about four or five people, and Nicola came across as the most enthusiastic so we decided to give her a chance." 
John and Janet have been major supporters of apprentice training, putting 20 tilers through their qualification since 2014. John says, "Everyone that works for us goes into an apprenticeship, whether they're 20 or 50 years old, whether they have 30 years experience or none. For some people, it's the only qualification they ever get and it means a lot to them. It's also a point of difference for our company having trained and qualified tilers." 
Nicola admits she certainly had a lot to learn when she started, "When I first got the job I knew nothing about tiling. I didn't even know what grout was." She is now just over two years through her apprenticeship and is on track to finish her qualification in 2019. Nicola's very proud of the fact that she's grown to possess a broad range of skills and knowledge in the trade. She says, "I no longer need supervising while tiling, and my manager trusts me to do the job well." 
We asked Nicola what she loved about tiling, "It's physically and mentally challenging. There's a wide range of diversity so no two days are the same. You can move from residential to commercial, work with different managers and crews, and use different tiles." John added, "You're supposed to say you've got great bosses as well..." 
Nicola thought that went without saying, then noted, "Yeah okay, that's also a big factor too. My bosses are the best." 
Nicola says, "It can be stressful at work with tight deadlines, but we have a social club where we can all get together and enjoy ourselves. We've done heaps of things like snowboarding, paintballing, team BBQs, racing V8s around a track, downhill mountain biking, and we're shooting 22s next weekend." Janet explained, "We try and look after our people." 
Nicola mentioned that she had always been interested in a career within the building industry, but held back on joining as she didn't know whether or not she could do the job. After some time in the industry, she's firm in the belief that being a female doesn't make you any less capable of achieving the same result as a male in the industry. She says, "If I got told that when I first thought of getting into construction that could have made all the difference."
Janet and John both agree, "Employers in the industry should give women a chance. They would be amazed at how easy it really is. It's their loss if they decide not to. Nicola fits in with the rest of the team really well."
In the future, Nicola aims to complete her apprenticeship and eventually work towards managing her own crew. She's very grateful to John and Janet for the opportunity she has been given and is looking forward to the great career ahead as a qualified professional tiler at Ambience Tiling. 
More News
NAWIC are delighted to have received a significant increase in entry numbers for their fifth annual Excellence Awards, this year in partnership with BCITO. Finalists have been announced today.
The Building and Construction Industry Training Organisation (BCITO) is pleased that the Government is moving quickly to establish the first construction Centre of Excellence (CoVE).