No regrets says former lawyer
Income is always important, but it's not everything.
It's a fact that the lifetime cumulative income of, for example, a lawyer is similar to that of a tradesperson. Comparing data readily available from IRD shows that the average qualified carpenter at age 28 is actually $120,448 better off than a law graduate. Financial stability comes sooner with trades, which often leads to earlier home-ownership.
Money is of course always important, but it's not everything.  Let's move on to the one big thing we all want from our jobs -  happiness! It's not about the money.  It's about all the other benefits that can bring you job satisfaction and enjoyment that are the most important.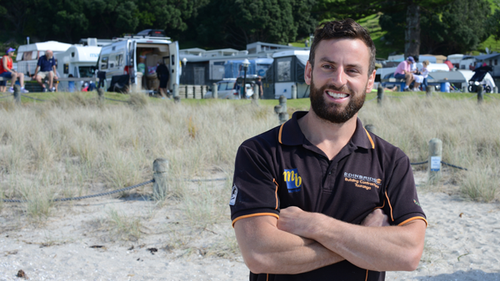 We first brought you Sam Hartnett's story back in 2016 when he was a BCITO carpentry apprentice. Originally a qualified lawyer working for a Tauranga-based firm, and 33 at the time, Sam had a job the envy of many. Dealing mainly with Maori land issues and cases of civil litigation, he was often in the Maori Land Court or High Court and seemed set for a successful career.
Yet now, ten years after getting his law degree, Hartnett is no longer to be seen in courtrooms. Instead, he wields a hammer (or rather a nail gun) as a qualified carpenter working on high-end housing projects in the Bay of Plenty.
"I got to the stage where I could no longer face sitting at a desk in front of a computer," he says of his old job. "I've always been an active person and I was getting cynical about people and life in general, I was slowly dying inside.
"I decided I needed to change and when a friend suggested I go building, it sounded like a good idea. A fortnight later I was on a building site digging my first footings."
Hartnett's story is revisited now as job opportunities in the construction industry are at an all-time high, with the industry now suffering a severe shortage of skilled tradespeople. Up to 50,000 more workers are needed in the next five years as the building boom continues.
Sam swapped Law for Carpentry and has no regrets at all. 
"I love my work!" Hartnett says. "I like the physical aspect, being outside and you still get to use your brain, you certainly don't switch that off.
"I don't regret changing. 
"When I started law I was already $30,000 in the red from my student loan; with a trade, you are paid while you learn and there is no need for a student loan."
BCITO chief executive Warwick Quinn says New Zealand needs more apprentices even though there are more people training now than ever before, many thousands more are needed.
"We are in the midst of the biggest building boom there has ever been and it is expected to last many years," he says. "Job prospects are excellent!
 "Now is the best time ever to get into building & construction and this IRD income data analysis proves that those who choose an apprenticeship in building & construction are off to a better start in life financially than those choosing university."
More News
Information for BCITO apprentices.
Building and Construction Industry Training Organisation (BCITO) Chief Executive Warwick Quinn acknowledges the significance of the changes to the vocational education training system proposed by the Minister of Education, Hon Chris Hipkins.