From performing arts to high-performance homes
When Alex Hannah began labouring after school, he never imagined it would be anything more than a way to pay the bills. Now, doing work he loves every day and sharing his passion for sustainable building practices with his 15,000 followers on Instagram, he believes that becoming a BCITO qualified builder was the best decision he made.
"I was teaching singing and working retail when one day I half-jokingly asked my brother-in-law for a building apprenticeship, not expecting it to turn into anything. Now it's become a career that I love to turn up to everyday!"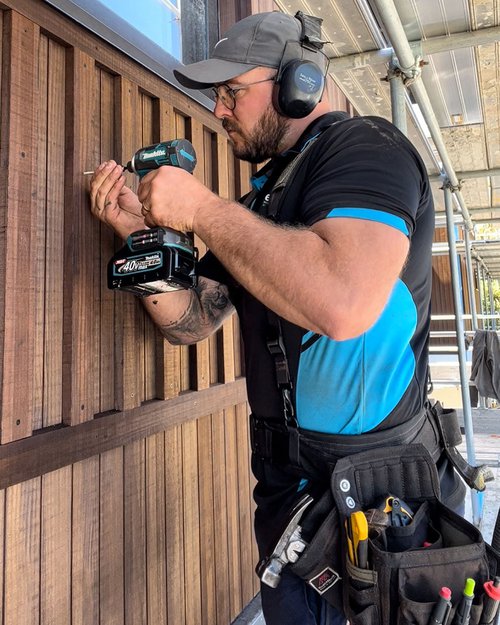 Before starting his journey in the trades, Alex was having to work weekends, which was less than ideal with a new family at home. So, he began his BCITO apprenticeship in Nelson with Black Design and Build, where he worked on high-end residential renovations and new builds.
"I felt very lucky with my apprenticeship. The hands-on approach to learning helps to build my practical skills which are essential to carpentry and improves my understanding of the theory behind what we do. I also got to work on a huge range of different and interesting jobs."
"I had an awesome training advisor, Mark Blom, who was incredible in supporting me throughout my apprenticeship. He would turn up to my sites and challenge me to be the best I could - and we always had a good banter too."
Alex was constantly thinking about what he could learn next and began to excel quickly.
"My brother-in-law said to me – as your boss I'm never going to make you do something I don't think you can do – that really stuck with me and gave me a real confidence boost."
Throughout his apprenticeship, Alex documented his building journey on his Instagram @buildingwithalex. As he learnt new techniques, worked on different builds, and tried new products, he shared it with his community of aspiring builders, which grew alongside him.
"I wanted to support other apprentices with their training and share the benefits of working in the trades. Sometimes I receive questions on certain techniques and products - I want other builders to feel like they always have someone to help, just like I did."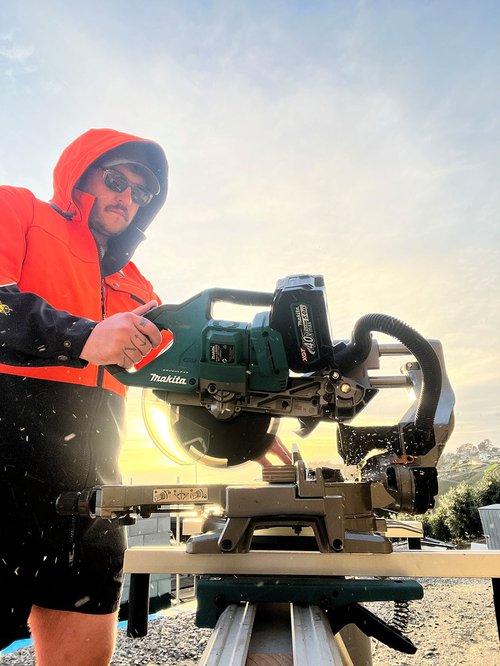 During his time at Black Design & Build, Alex learnt about passive homes for the first time, through his workmate Josh who was a certified passive house builder. As soon as he learnt about the benefits of airtight, energy efficient homes, Alex knew it was an area he wanted to explore.
In July 2021, Alex completed his building qualification and placed third in the Master Builders Apprentice of the Year for his region. He told the panel he wanted to build passive houses and one day start a company. One year later he has already achieved one of those goals.
When Alex decided to move to Christchurch, he already had his dream company in mind – Ethos Homes, specialists in passive houses, and when Alex reached out to them, he was surprised to find the Ethos Homes team already knew him.
"It turned out that they had been following my Instagram, so they knew who I was and welcomed me into the team" Alex says.
Alex is currently running the build of a high-performance home and talking to Alex, you can feel his passion for sustainable building. For him, "it just makes sense."
"It's a win-win. Homeowners benefit from drier, warmer, and fresh homes. Builders get to work on more challenging and satisfying projects. And this is on top of the benefits for the environment."
"When building passive houses, you learn different methods and procedures that are all strings to your bow. As carpenters we are constantly refining our craft and especially when building high-performance passive homes."
BCITO encourages people from all backgrounds to consider an apprenticeship. Learn more at: https://bcito.org.nz/
More News
Wood Solutions have been carving out the way for sustainable practices and diversifying their workforce. They are minimising and repurposing waste and create a healthier and more welcoming workplace where 1/4 of their workshop are female.
Jenna Toailoa and her husband Manu's RedRock Plastering has been making a name for themselves with their high quality work all the while taking on apprentices, showing it can be done!