Picking up the tools, and putting down the bat
Before embarking on his building career, Ryan Duffy played cricket professionally for the Otago Volts for four years and while he would dabble in construction during the off-season, Ryan's passion was the game.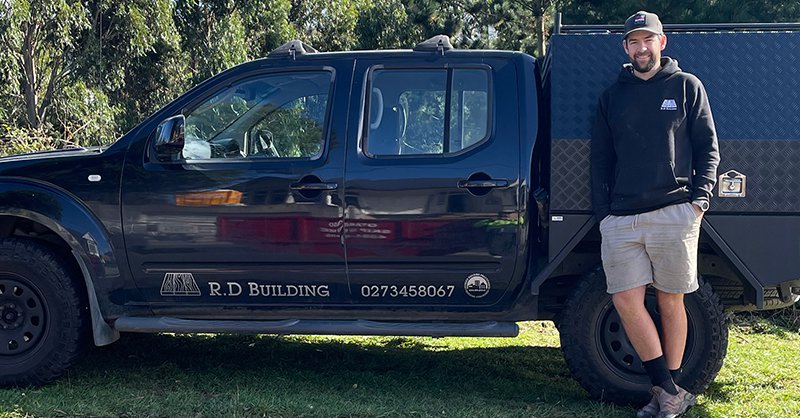 When he wasn't offered a professional contract in his last season, Ryan was at somewhat of a crossroads.
"When I wasn't offered the professional contract, mentally I went through a pretty rough time. Although I was still offered a spot in the squad, it just wasn't feasible financially. After a lot of deliberation I decided to leave cricket behind me. With the support of my wife, family, and the NZ Cricket Players Association I got a great job with W Hamilton Building and things have only continued to improve."
After finishing his BCITO apprenticeship in 2019 and still working for W Hamilton Building, the first COVID lockdown hit. Although it was an unsettling time, it gave Ryan a chance to reassess his career goals and time to plan for his future.
"The 2022 lockdown was a time of reflection for me. I made the tough decision to leave W Hamilton Building in pursuit of my own building company, which was a major leap of faith. The decision for me to leave the comfort of employment and start my own company came down to the rate at which I wanted to develop my career in the building industry. Since being out on my own I have completed many great projects. These include bathroom renovations, a garage to bedroom conversion, and two full house renovations. I've even taken on my own apprentice to help with the workload, which has been very rewarding."
Ryan believes starting his own business was one of the best decisions he ever made, however, being a business owner comes with additional stress and pressure.
"The biggest challenge I face is knowing the buck stops with me as there is a lot of pressure when you are working on someone's biggest asset. However, I've gained a lot of confidence, learned how to deal with this pressure and I trust myself to complete the job to a high standard that clients are happy with."
Ryan has found building to be an extremely rewarding profession.
"There are so many satisfying aspects of being a builder. Seeing a finished product is rewarding enough but seeing the excitement and satisfaction from clients takes the cake. Being a business owner has so many amazing benefits, I can be flexible with my time, there are great financial gains, and I get to teach my apprentice building and business skills, all while still enjoying the physical element of building. When I was employed, I was living for the weekend, now that I work for myself the weekend seems to come around too fast!"
Completing his apprenticeship training through BCITO has set Ryan in good stead.
"BCITO was great at providing all the information, resources, and support I needed to complete my apprenticeship. I also made a good connection with my training adviser, who I felt comfortable talking to. I reached out to him when I took on my own apprentice, which was a cool full-circle moment. He also made the trip to the final of the Registered Master Builders Apprentice of the Year Competition in Auckland which was a nice touch."
BCITO encourages people from all backgrounds to consider an apprenticeship. Learn more.
More News
Wood Solutions have been carving out the way for sustainable practices and diversifying their workforce. They are minimising and repurposing waste and create a healthier and more welcoming workplace where 1/4 of their workshop are female.
Jenna Toailoa and her husband Manu's RedRock Plastering has been making a name for themselves with their high quality work all the while taking on apprentices, showing it can be done!