Pride of Place
Oceanna Wilson from HEB Structures is completing a National Certificate in Concrete Construction through BCITO. She likes working with her hands and loves the idea of being able to point to her work and say "I built that."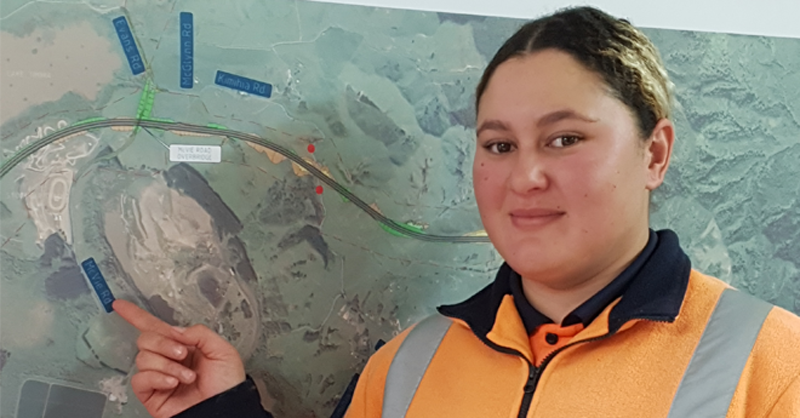 Building structures out of concrete means her work is going to be there for many years to come. Though the work is physical Oceanna says she likes lifting heavy stuff and all the moving around outdoors keeps her fit and healthy. 
Oceanna's family were initially shocked at her career choice but are very proud of what she is doing. She also feels well supported by HEB who pay for her course fees, supply site tools and transport her from Auckland to the Huntly Highway site. She is currently working on the 9 new bridges along the route and describes it as an "ultra-safe" work environment. 
Supervisor Raymond Puhara sees Oceanna in a leadership role in the future. He says, "once she completes her apprenticeship she may go into a leading hand role looking after a crew". Oceanna feels that guys underestimate what a female can do but she likes to crack into it and get the work done. She says "if I believe I can do it then I can accomplish it. Especially being the only girl on site!" 
Her BCITO Training Advisor Scott Braithwaite says "Oceanna is doing well even though she is new to the training side of things." He takes his hat off to her joining this industry and says that she has done well to have kept at it. In his experience most women coming though the trades end up really good at their jobs. "She is very determined to achieve her goals and I am sure she is going to excel in the industry."
Oceanna recently won a BCITO scholarship to attend the 16 day Outward Bound Course at Anakiwa in the Marlborough Sounds. She learnt a lot about herself and how she could bring leadership abilities to her work place. Meeting male and female apprentices from other trades was encouraging, too - especially learning how to overcome the physical and mental challenges together as were presented at the camp and how to apply them in life. 
Oceanna encourages other women to try the Concrete Construction trade. She says: "It is a good feeling completing projects. Girls are more precise in their work - especially finishing work - making the project look good."
More News
Gavin Lambert, New Zealand Master Painter of the Year 2019, knows a good worker when he sees one and he reckons taking on 22-year-old Yonier Moralas as an apprentice, through the Mana in Mahi programme has been a winner.
Professional sports players often wonder where to leap after their first careers – and the building and construction industry is helping them jump into life after sports.