Qualified tradespeople have ownership and pride
Richard Aitken has held various manufacturing and sales management positions over the last 25 years, including four years as a Regional Manager for Viridian Glass, Nelson. His current role is as New Zealand General Manager at Viridian Glass, New Zealand.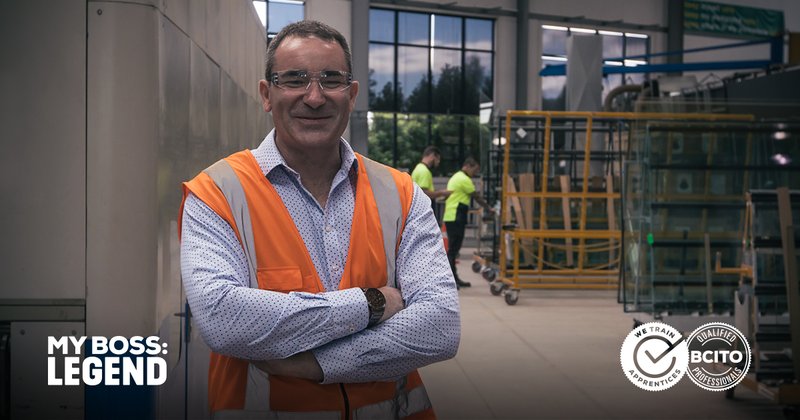 Richard strongly believes that everyone has a chance to grow and progress. He says, "Don't be afraid to change the path that you're on.  The best business decision I ever made was to relocate my family to a new city and a different role in another company. My family were young at the time, and it was a difficult decision, but retrospectively the experiences I gained were second to none.
"Apprenticeships are a great way for people in the industry to start the process of change in their own lives. We currently have a strong demand in the industry for skilled people. After decades of a lack of training, we are experiencing skills shortages, and industry training is a real positive step forward for everyone. We all learn from the experiences gained and also by the goals that are before us – like having enough skilled workers to meet demand.
"It is important to remember that the decisions made by industry leaders have strong links to people's careers, community standing and general well-being. Often apprentices put a lot of plans on hold until after they get qualified. They hold off from buying houses, travelling, even starting a family. Becoming a tradesperson gives them a sense of value, ownership, pride and also allows them to grow into outstanding citizens in their community.
" Everyone deserves a chance to learn. If an employee puts their hand up and says 'hey I want to do …' ,  I'll do everything that I can to help them make their goal a reality. Not all jobs in construction happen on time, or even that well. If you put the time and effort into your employees, then they are willing to help out when you need them.
"The techniques I use to encourage my people to learn include 'talk, talk, talk'. As a people person, I have a unique style of management, and I strongly believe in engaging with my staff on a personal level. I love talking with people - from what they did in the weekend to having discussions on how the work they do is important to the business. It creates value, and at the end of the day I think people want to know how their presence in the workplace each day makes a difference."
"My best advice to someone starting their first business is to concentrate on the people, be customer-centric and remember we are all the same; no one is better than another."
Legend 'wise words'
an effective leader needs to commit and be honest.
a commitment to industry training means appreciating that the decisions we make as industry leaders have strong links to people's careers, community standing and general well-being.
best business decision was to relocate my family to a new city and take on a different role. 
life-long learning means we learn from all experiences, both negative and positive. 
at the end of a tough week I catch up with friends and family, or you might find me riding motorbikes, paddle boarding or pretending I know the difference between a weed and a plant.
in 5 years I hope I'm still having fun.
Richard Aitken, Viridian Glass New Zealand
View Richard Aitken's story and more stories about other legendary bosses.
More News
The Building and Construction Industry Training Organisation (BCITO) is pleased that the Government is moving quickly to establish the first construction Centre of Excellence (CoVE).
BCITO comes on board this season to become the front of jersey and official sponsor of the Waikato Under 19s team.