Record-breaking numbers of designers qualify
The 2019 academic year is one to be celebrated for the Kitchen and Bathroom industries as a record number of Kitchen Designers are set to qualify.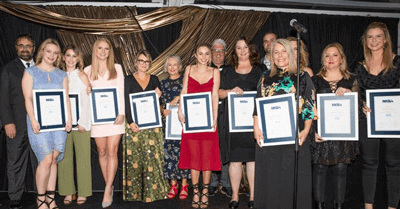 An astounding 31 students have already qualified in the past 14 months with many more to come.
At the NKBA awards ceremony held in July, all students who had achieved their qualification in the last year were invited to share the stage to celebrate their achievement with their peers. 

NKBA believes that education is the key to successful kitchen and bathroom design and the continued professional development of the industry. It was a wonderful moment to celebrate with these high achieving designers.
Fast forward ten weeks, with gowns and suits stored, I thought it time to check in with three of our recently qualified designers gaining their perspective on what it means to be certified.
Madison Duxfield of German Kitchens shares, "Being qualified gives me confidence in my day to day work that I can design the best possible space for my clients. It's also given me a sense of achievement that I could use what I have learnt whilst on the job, in courses and from my mentors to complete my qualification while balancing a full-time job and all the other aspects of my life. The BCITO course has further added to my Bachelor of Design qualification and leaves me feeling much more confident about my abilities in the Kitchen & Bathroom design space.  
"These days all customers are very active on social media; they know who's who, who is qualified, who has won awards and have a lot of ideas on what they would like to create in their own homes before they even walk into the showroom. The combination of having a qualification and then seeing my certificate on the wall reassures them that I am the correct person to be designing their kitchen."
Katherine Lightfoot, of Nicola Manning Design shares, "It means all of the hard work, the hours of research and designing for the assignments was worth it. Getting this qualification has given me a significant amount of confidence in my ability to create a beautiful and functional kitchen. I now retain such in-depth knowledge of kitchen design I also feel there are no limits to what I can design. It is a huge accomplishment and a great feeling having my qualifications.
"It also gives the clients who I am designing kitchens for the confidence that they are receiving a design of high quality. They know they are working with a designer who has excellent knowledge of kitchen design and the industry. Being young and new to the industry means that at times you feel you need to convince clients you know what you are doing, by having my qualification, it speaks for itself when clients are looking at working with me; it says they can trust I will provide them with a fantastic kitchen. It also shows clients I have worked hard and dedicated my time and efforts to acquire the best level of kitchen design knowledge possible." 
Melanie Williams of Matisse shares, "Attaining the Diploma has been a considerable achievement that required a large amount of dedication and determination. While working full time and raising a small family it has been made possible through a commitment to succeed with the highest qualification. Now, I have the exciting ability to share my final certification in combination with recently attained awards on our workplace awards wall."  
This display allows validation of trained skills and gained knowledge through many years industry experience. This assures our clients that they are working with qualified professionals from whom they will receive a highly functionally designed product. All achieved while maintaining uniqueness in designs and with an ability of engaging the forever evolving trends in industry innovations."
BCITO thanks all business owners who help promote education within their design team, congratulates the 31 designers who have recently qualified, thank Madison, Katherine, and Melanie for sharing their stories as well as thanking the NKBA and CDS for endorsing education as the key to successful kitchen and bathroom design.
More News
PRESS RELEASE 14 MAY 2020 - Speaking today after the announcement of the Budget and the $1.6 billion Trades and Apprenticeships Training Package, Warwick Quinn, BCITO Chief Executive congratulated the Government.
A summary of the meeting held on 7 April.