Respect delivers quality work
At the age of 17, Bruce Karton entered a bricklaying apprenticeship, joining his father on the tools. Since then he's purchased Karton Construction Systems in Timaru from his parents and diversified into exterior plastering.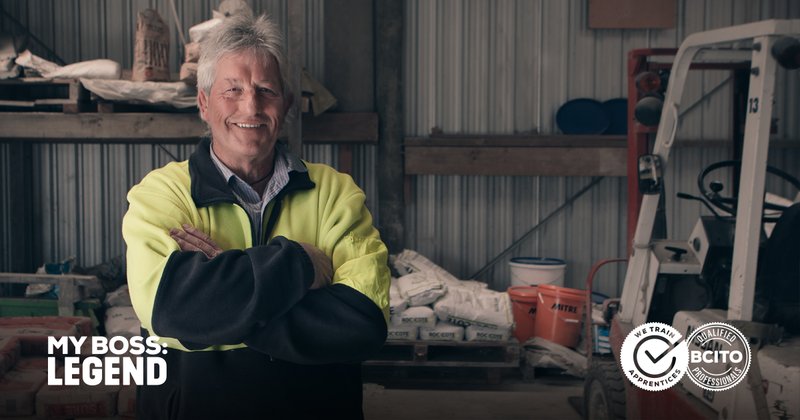 Back in the days when Bruce started out, you had to complete 10,000 hours and a block course per year for three years to get qualified. Bruce was lucky enough that the rules changed to 8,000 hours while he was still training and what do you know? He qualified overnight!
Bruce says finding someone who is keen, reliable and prepared to commit to training is rewarding. "Apprenticeships are a great opportunity for people to learn a trade they will have for life. As an employer who trains you get to watch someone go from a labourer to an apprentice to a qualified tradesperson – in essence, you 'create experts' for the industry." 
Bruce believes it is an essential business practice to invest time and resources into employees. He says, "It is really important that we provide the opportunity for people to gain apprenticeships and complete training – for my business to be successful I need employees that can produce top quality work. 
"Industry training is about creating happy workers, with the best skill set, for the betterment of the individual, the business and the industry as a whole. If an employee respects you and enjoys turning up for work, their quality is going to come out better, and they're going to do a better job.
"As a leader, you need to have the respect of your staff, but you also need to respect them too. People new to the industry often come loaded with questions and ideas. If you truly want to encourage a culture of training in your organisation, you need to be approachable. If staff receive positive feedback for showing initiative and asking questions, they will help cultivate a company culture of self-improvement and learning. Nothing is better than just telling someone they did a great job."
Legend 'wise words'
an effective leader is approachable, firm and fair.
hardest question an apprentice ever asked me 'when am I going to be qualified?'
a commitment to industry training means we are creating experts in our field of work.
best business decision was buying the Rockcote franchise.
life-long learning means happy workers with the best skill set.
at the end of a tough week I go home and do more work on my own projects … and have a beer.
in 5 years I want to be retired!
Bruce Karton, Karton Construction Systems
View Bruce Karton's story and more stories about other legendary bosses.
More News
The Building and Construction Industry Training Organisation (BCITO) has set a record of 16,000 apprentices in training.
Have you heard? – the NAWIC Excellence awards 2021 are happening and open for nominations!