Registered Master Builders Apprentice of the Year 2020 in partnership with Carters
BCITO is delighted to congratulate Thomas O'Brien from Beacon Construction, Auckland as the Winner of this prestigious award.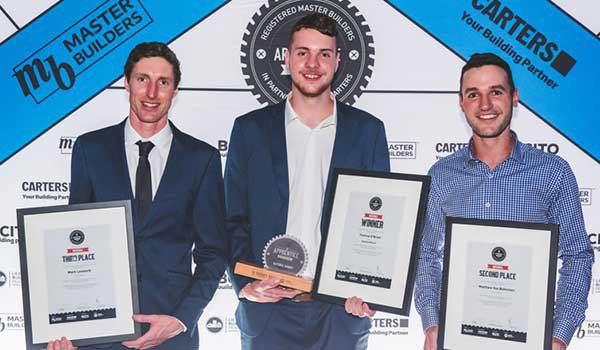 The second runner-up was Matthew Van Bohemen from Beck Building, Taupo with third place going to Mark Lovelock from Timbercraft Construction, Picton.
BCITO judge, Neville Ward, had the opportunity to get to know the competitors and interestingly noted that some had previous careers before joining the building trade.
There was Byron whose journey included qualifying and working as a chef, representing NZ in snowboarding, and as a para Olympic cyclist.
Chris, who had completed a Degree in Business and Commerce.
Ben who had come into the trade through a secondary school Gateway programme, after getting a taste of the trade when helping his father with building tasks around their home.
Mark, who completed an Architectural Degree and wanted to experience the hands-on side of the industry.
Thomas, who has been influenced through family with his Grandfather making him a toolbox at the age of 11, in which he had his tools in at the competition.
These, along with the other stories heard, once again demonstrates that we should have confidence in the talent that this industry attracts.
Congratulations to all nine apprentices who made it to the finals.
More News
The Building and Construction Industry Training Organisation (BCITO) has set a record of 16,000 apprentices in training.
Have you heard? – the NAWIC Excellence awards 2021 are happening and open for nominations!