Road to success paved with challenges for glass & glazing apprentice
This year's Glass & Glazing Apprentice of the Year, Alex Parkinson, has been through a lot in his 24 years. This time 12 months ago, Alex was affected by heart problems in the middle of his apprenticeship, which saw him off work for six months.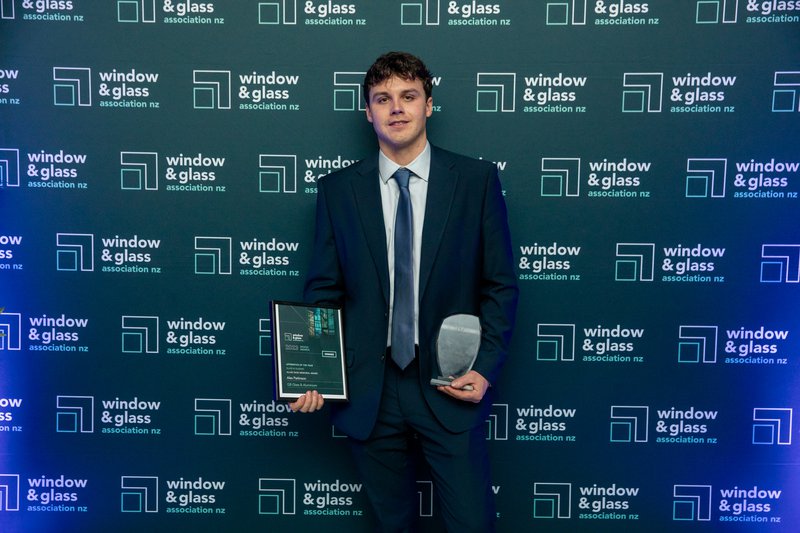 However, thanks to support from his employer and his trainer at BCITO, Te Pūkenga, he's now back on his feet and determined to succeed.
Growing up in Taupo, Alex knew early on that he wanted to be in the trades. Through the national Gateway programme for secondary students keen on a hands-on career, Alex got a taste of the different opportunities available. The toughest decision was: which one?
Alex eventually settled on an auto glass and glazing apprenticeship, before deciding residential glass and glazing offered more variety.
"I've never looked back since. From installing glass in new builds to storefronts and commercial properties, what I like is that no two days are the same."
However, all this was put on hold last year when Alex suffered a surprise heart attack.
"The heart attack and everything that came after it was a shock to the system. I'm young and someone who looks after themselves reasonably well. After that wore off, I had to deal with the realisation I was going to be off work for some time. This was hard, as it felt like I was making good progress and delivering on what was expected of me," he says.
With an employer invested in both his personal and professional development, Alex's colleagues and manager regularly checked in to see how he was doing. Alex's BCITO training advisor also helped him get back into the swing of things.
"Being at home for so long wasn't easy. But what helped was having people, such as my workmates and boss, checking in to see how I was doing. My BCITO trainer, David, was also a big help in the transition back to work. In the weeks leading up to my first day back, he helped smooth things and go over anything I might have forgotten. While I still have to be mindful of my health, it's great to be back doing what I love," he says.
Given the setbacks he has faced, the award reflects Alex's character, steely determination and positive outlook on life. It also goes to show that no matter what obstacles stand in your way, with a bit of support, anything is possible.
Aotearoa New Zealand needs more people from all backgrounds to consider a career in the trades. BCITO has the resources and support systems in place to ensure everyone has an equal shot at success. To learn more, head to https://bcito.org.nz/apprentices/.
More News
Wood Solutions have been carving out the way for sustainable practices and diversifying their workforce. They are minimising and repurposing waste and create a healthier and more welcoming workplace where 1/4 of their workshop are female.
Jenna Toailoa and her husband Manu's RedRock Plastering has been making a name for themselves with their high quality work all the while taking on apprentices, showing it can be done!