Sam Watts a Solutionary
The 2019 NZ Master Joiners conference was hosted in Invercargill last month, with the annual awards dinner fittingly celebrated among a lifetime of automobile passion at the Bill Richardson Transport World.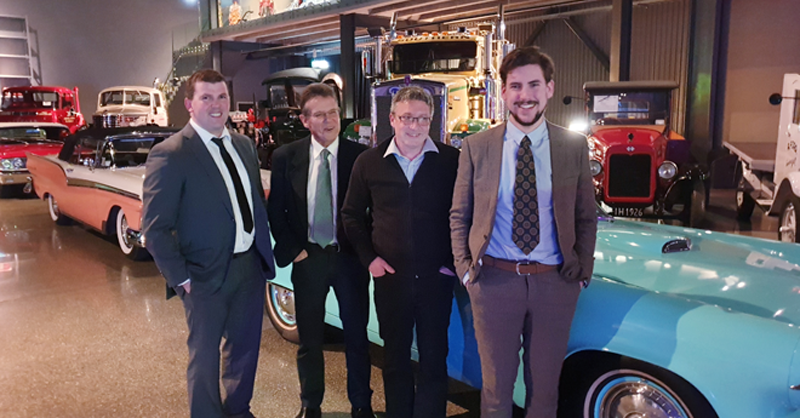 More than 200 people attended the event to celebrate the success of their colleagues, peers and lifelong industry friends. Congratulations to this year's recipient of the Ernie Jelinek Cup, Sam Watts, from PDL Kitchens & Joinery. 
Paul Lindsay, Sam's employer said "Sam sets high standards and isn't afraid to challenge himself.  What impresses me the most is his passion for the trade - this year he took on the national skills challenge in Hamilton. Sam trained like any athlete would for a national event, taking projects home to work on as well as practicing over and over at SIT on weekends.  
"Sam is a southern solutionary.  He's at his best when there's a puzzle to be solved or a technical project requiring an inventive mind to craft the how, then do.  But what really ticks the box for us at PDL is Sam's all-inclusive nature – words not often used but a real pleasure to stand beside 8 hours a day 5 days a week." 
What stood out for this year's judge was "Sam's clean sweep, scoring 10/10 in problem solving, critical thinking, practical skills, attitude and attendance by three independent parties. And the discipline, commitment and pure sacrifice to achieve - demonstrated by gaining entry to compete at the National Skills and a 3026km round trip."  
We caught up with Sam and his partner at the awards dinner to have a quiet chat. It was a surprise to discover that as a child Sam dreamed of becoming a musician, but the concept of working with his hands and crafting things from wood won out. Sam said "It's awesome doing a job you enjoy, learning and earning at the same time. I look forward to every new day on the workshop floor, growing my skill set and learning different things from the guys at work. I attribute where I'm at today to my boss Paul, the team I work with and my parents who have always been very supportive, encouraging me to do and be the very best version of me."
I asked Sam if he could share #1 tip with employers who formally train and he said: "be patient, give your apprentice permission to test and stretch themselves, never stop sharing your knowledge." 
I asked Sam what a "true joiner" looks like. He told me … "A person that can think on their feet and problem solve on the fly."  I found Sam's interpretation intriguing - without knowing it Sam summed up the perception of how others see him – exceptional. 
We'd also like to acknowledge this year's NZ Master Joiners apprentice award winners:
Tyler Burgess of Kitchen Zone Gisborne; 
Logan Van Der Meer of Molloy Joinery Napier; 
Nikolay Kidik of Total Timba Joinery Auckland; 
Mathew McLellan of Firman Joinery, Oamaru and; 
Firman Joinery recipient of the Gordon Caulfield Memorial Trophy for the employer of the apprentice with the highest scoring points in the over 2 years category.
From everyone at the BCITO congratulations.
More News
Smith&Smith's® leading technicians from around the country, competed to be the 'Best of New Zealand' in vehicle glass repair and replacement recently.
In a faceoff against eight of New Zealand's top carpentry apprentices, Morgan Wills has taken out this year's Registered Master Builders 2019 Apprentice of the Year, in association with CARTERS national competition.