Silver is better than gold
On September 12 in the sunny Hawke's Bay region the New Zealand Masonry Trades Association (NZMTA) and the Brick & Block Federation of New Zealand (BBFNZ) hosted their yearly conference and awards ceremony.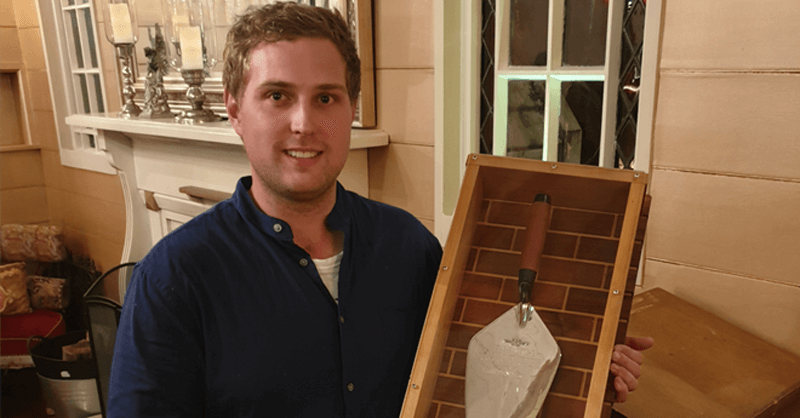 A fantastic day was had by all who attended the event but none more so than Fabian Williams of L & J Gagen Bricklaying Ltd who was the 2019 winner of the Silver Trowel Award. 
A special mention to Vincent Ball of Certified Bricklayers Ltd and Saimone Tonga of Kirk Stuart Bricklaying Limited for finishing 2nd and 3rd respectively.
A career in the brick & blocklaying industry wasn't top of mind for Fabian back in 2014 when he was first looking for work, in fact he owes it to his grandfather that he ended up joining the industry. "Five years ago I was in limbo looking for work and my grandfather who is friends with Lindsay from L& J Gagen Bricklaying basically said that there was a labouring job going if I wanted it" Fabian said. After a couple of months of carrying bricks and blocks around Fabian was signed in to his apprenticeship, and the rest as they say is history.
The last five years Fabian has worked his way through his apprenticeship giving him a real appreciation of what it really means to work. He says "things like showing up every day and staying focused on the job are so important, especially when working to tight timeframes. I was unmotivated at school so to make a real effort with my bookwork and portfolio as part of my apprenticeship was a big learning curve also". With a wife and 9-month old daughter at home, Fabian is happy in knowing that all his hard work is providing for his family, "my family is why I go to work every day, knowing I am putting food on the table is a great feeling" Fabian said. 
Winning the Silver Trowel award didn't just happen overnight either, it was the cornerstone of five years of hard work with an end goal in mind. "I was aware of the Silver trowel at the start of my apprenticeship and the prestige the award has. I wanted to make sure I had a chance at it come the end of my apprenticeship and to actually win it is such an amazing achievement" Fabian said. As for advice for any budding apprentice in 2020, Fabian says "be confident in yourself and your work. It's what you do on a daily basis so back yourself".
More News
Gavin Lambert, New Zealand Master Painter of the Year 2019, knows a good worker when he sees one and he reckons taking on 22-year-old Yonier Moralas as an apprentice, through the Mana in Mahi programme has been a winner.
Professional sports players often wonder where to leap after their first careers – and the building and construction industry is helping them jump into life after sports.