Simona Ghidoni – persistent plasterer
Exterior plasterer, Simona Ghidoni grew up in the fashion capital of Milan, Italy.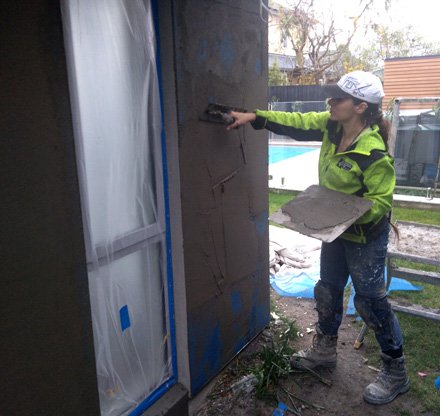 Simona says, " Italy is a beautiful, historical country with stunning architecture and nice food. I studied art and sculpture and, following in my grandmother's footsteps (who was a talented dressmaker) I obtained a diploma in fashion design." 

From the age of 14, Simona worked after school in an Italian boutique store and gave her artisan father a hand working on marble and granite floors. Always enjoying the challenge of learning different creative skills in contrasting trades, Simona later started painting, plastering and hammer-handing. She sold her paintings in her home town and also produced large scale murals.
Growing up with her loving Catholic grandparents, Simona embraced their love for nature and the outdoors and, after watching some documentaries, she decided to travel. Simona says, "There are way too many people in Italy! I felt there was something more out there for me." Having explored Australia for two years, she subsequently fell in love with Aotearoa. She has now lived in New Zealand for the past six years. Being very outdoorsy, she enjoys diving and hunting and has gained her divemaster qualification with more than than 200 dives under her belt. She is still looking for a wild trophy stag so she keeps fit going for walks up in the hills keeping an eye out for it!  Simona says, "I feel that I really fit here, and I want to make New Zealand my home. People might think I'm crazy, but I've decorated my van with a camouflage coat; I tan skins and collect animal's skulls and antlers. The kiwi lifestyle is like a dream!" 
At age 27, Simona began work in the exterior plastering industry in New Zealand. "I thought it was cool, a challenge. I wanted to achieve more than my father thought I could – and on the other side of the world! I developed a work ethic early in my life and had to 'wear the pants' to help my mother and brother. I wanted to do something women are not traditionally supposed to do and make my family proud. In Italy, women don't get their hands dirty!" she laughs. However, Simona found it difficult to get her workmates to take her seriously. Coming from quite a conservative background, she struggled with some aspects of the tradies' colourful language and attitude towards a woman on site. 
Simona had to persevere to complete her NZ National Certificate in PPCS - EIFS. After complications with her first employment, and taking months to find a new employer, Simona is pleased that she was able to complete her qualification with Glenn Munro from Properly Plastered in Christchurch. "Having a good employer is important. My boss and his family supported me, and that mattered to me. It gave me the strength to wake up every morning and not give up - getting through bad days and turning up the next day stronger and more determined," she says. 
"Our company does some excellent work. It is amazing working for a company that knows how to get the job done 'Properly'! We have been able to fix some houses that look as though they need to be demolished! When we leave, the plastering job looks stunning! Working for a company like ours is rewarding, and I am proud every day to be part of Munro's team," boasts Simona. 
Simona challenges BCITO, and the industry, to ensure that apprentices are being fairly treated and given equal opportunities to learn on site - especially women who may be viewed as being physically weaker and not as capable as men. Even though she enjoys working with the boys and staying fit through the hard work, she finds herself having to plan her work extra carefully, keep herself super strong and be extremely determined to compete with the guys on site to keep her job, and not get hurt. 
"I find it is some of the small things about the work that keeps you satisfied, like when people stop to talk to you on site, and happy owners thank you for your work. Many customers like having a woman on the job. I even had a lawyer tell me she envied me and wished she had tried the trades when she was younger!" Simona says. 
"I believe that women are reliable and mentally strong. They fit into construction well due to their precision, ability to multitask and to see things differently," says Simona. " I enjoy the creativity of the job, the constantly changing location, and the variety of plaster styles.
"Someday I'd like to build and plaster my own house, explore the use of natural clay and eco-products and create new mouldings. I would also like to be able to step up and lead a team. I would love to teach young people through gentle encouragement and sharing secrets of the trade. I want to support women in the trades and see that they are respected in the industry."
BCITO training advisor Robert McLauchlan says, "Simona was determined to complete her qualification in an industry which is hard work and is time and task pressured. She pushed as hard as she could to get it completed and was always keen and well prepared for her site visits." Simona was the second female apprentice ever to complete the PPCS qualification in New Zealand.
More News
As free trades training starts, being an apprentice and training in trades have become so much more attractive.
WorkSafe would like to ensure that you are aware of the risks of working with engineered stone benchtops, used primarily in bathrooms and kitchens.