From snipping tresses to nailing a new future
Apprentice builder Anthony Prince's first day on the job was an eye opener.
A career change from barber to builder has paid dividends for New Plymouth apprentice Anthony Prince and his young family.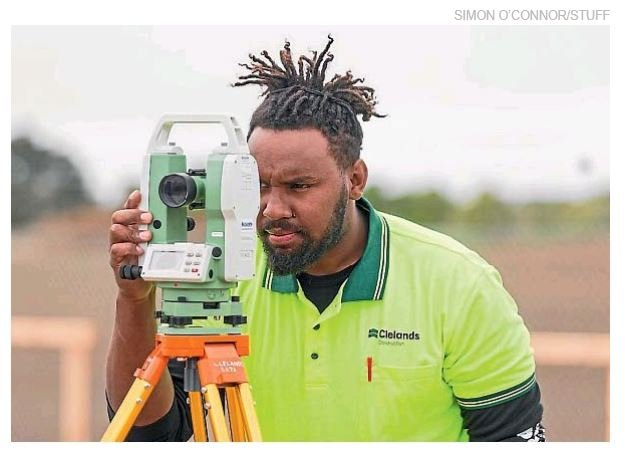 Used to working indoors with central heating and chatting to clients, the 30-year-old former Auckland barber was instead toiling away on a cold windy Taranaki construction site rugged up against the elements.
''It was overwhelming at first working on a large site in New Plymouth with the size and scope of the job to take in,'' Prince said.
''I spent the whole day grinding holes for eight hours.
''I thought many times to myself, 'what have I done to get this'.''
Prince came back to work the next day, and every day thereafter, without a second thought of quitting.

The job improved the more he persevered, he said.
Last month Prince, a Solomon Islander, was awarded an IAG Trade Scholarship, in conjunction with the Building and Construction Industry Training Organisation (BCITO), one of only two in Taranaki to be awarded in 2018.
Prince's decision to move to Taranaki to find a better quality of life for his wife and three young children has proved a sound move.
When a friend in phoned him about the opportunity he jumped at the chance.
After settling into the new town he looked at training as a builder.
Though his father was an electrical engineer, and his mother Hawera job he was a chef, strong practical skills had not necessarily filtered down to him, he said.
''I'd always had an idea at the back of my mind I'd like to be a builder because I liked working with my hands.''
Prince enrolled in a seven-month pre-trade course in New Plymouth through the Western Institute of Technology Taranaki (WITT), Taranaki Futures, and Māori Pasifika Trades Training (MPTT), to complete the theory assignments.
He was taken on soon after by Clelands Construction as an adult apprentice carpenter to complete the course practical units over the next three to four years.
''Clelands weren't hiring at the time but I kept asking around and eventually landed a job,'' he said.
''I was a bit lucky, many of the other people on the pre-trade course still have not found apprenticeships.''
There had been no regrets with the lifestyle change, he said.
''I was working two jobs in Auckland, as a barber and night duty noise control officer, up to 140 hours a week to pay the rent and living costs.
''There was no choice really for us, it was sink or swim.''
Weekly rent and commuting costs have halved for Prince since moving to New Plymouth.
''We're not struggling now as we used to.''
Being older than most apprentices had also helped Prince.
''He's smart and he uses his brain, and he has a good attitude, like getting to work on time and self-discipline, which some of the young fellas we get don't have,'' Cleland's site manager Sam Wiringi said.
''He's here for life if he wants to stay.'' With two garden festivals, a national art award and a festival featuring an explosion of knitting on its main street, Opunake is set to become Taranaki's culture capital – for the next few weeks at least.
Source: Taranaki Daily News
More News
The Building and Construction Industry Training Organisation (BCITO) has set a record of 16,000 apprentices in training.
Have you heard? – the NAWIC Excellence awards 2021 are happening and open for nominations!