From consulting to flooring
Steve Ferris started working in flooring over 20 years ago.
Since then he has built up a successful business with 17 employees and has taken on a number of apprentices.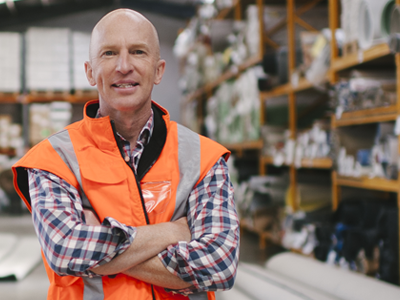 Steve left high school in 1993 to study environmental science at the University of Waikato. He then worked in a consultancy in London before moving back to New Zealand.
"My grandfather and father both had flooring businesses. I decided to help my father out for a few days but ended up staying. I enjoyed the change to a small business where no two days are the same," says Steve.
He later became a regional manager for a national flooring chain, which alongside his practical experience, gave him the knowledge and skills to start his own business.
"With an excess of work available, there is a massive opportunity right now for people to get involved in flooring. It is a really varied career with great job satisfaction and earning potential. Because most jobs are only one to two days long, there are always new and exciting challenges to solve."
Steve points out that hiring apprentices is becoming an increasingly important thing to do.
"There is not enough skilled labour in all trades, flooring included. With an ageing workforce, this is only going to get worse. We need to have more people coming through so we can deliver the standard of finished product that our clients deserve.
"The team at BCITO are a well-connected organisation that provides a huge amount of support for apprentices. They have worked in the trades themselves and understand the challenges and opportunities facing the sector."
Steve has a strong focus on hiring apprentices from diverse backgrounds. One of the adult apprentices Steve works with is Steve Malloy, a former police officer who was in the force for 14 years. He says that after trying out various trades, he is happy to have settled on flooring.
"Before joining the police I studied for an automotive apprenticeship. I'm now with the BCITO, completing my flooring qualification.
"I enjoy delivering my clients high-quality flooring. They are always thankful and appreciate the work, which really motivates me."
Another of Steve's apprentices, Paraia Los'e-morunga, joined the army following his high school education before trying out quantity surveying and roofing.
"I've been in flooring for seven months now and I'm really enjoying it. I love seeing satisfied customers."
"BCITO were really helpful throughout my apprenticeship. They are supportive and want to get people qualified. Steve also supported me by providing additional booklets, which aided my learning."
BCITO needs more skilled people to become tradespeople. Find out more about how to get started and what support is out there for you.
More News
We have put in place a vaccination policy and process that allows us to protect everyone and meets the requirements of the Covid-19 Protection Framework (traffic light system).
New Zealand Master Joiners Otago Chapter, BCITO and the National Kitchen and Bathroom Association have been holding a graduation ceremony for Joinery and Kitchen Design apprentices for ten years.