A sustainable business where all are welcome
Construction businesses across New Zealand know waste is a big issue, which is why Andrew Bellamy, General Manager at Wood Solutions, has sustainability front of mind. When the South Island joinery company moved factories five years ago, Andrew and the team took this as an opportunity to invest in an impressive new dual extraction system.
Sustainability is a major focus at Wood Solutions and Andrew wanted to ensure the team were doing their part to minimise waste where they could. Another challenge is retaining and attracting good talent, which is why Wood Solutions has not only focused on creating a sustainable business, but also prioritising diversity.
"The extraction system separates the clean timber shavings from the finer board dust, which allows us to put the shavings to good use. We sell them to farmers to use as animal bedding during the calving season, and to the equestrian community for stables. This allows us to turn our waste products into something more productive and provides us with a small additional profit stream," Andrew says.
"It also includes a smart system that senses which machines are in use and adjusts power consumption to suit, and a re-circulation heat recovery system that pushes clean air back into the factory, reducing heating costs. These systems help lower the environmental impact and make Wood Solutions one of the most state-of-the-art factories in the South Island."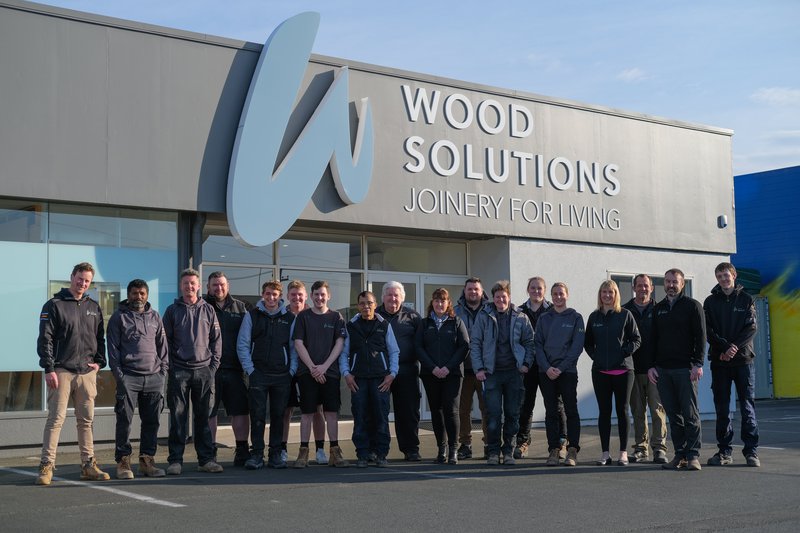 It isn't just about environmental sustainability – it's also about making a healthier, more welcoming workplace. An in-built dust extraction system in all workbenches allows floors to be vacuumed quickly rather than swept, as is traditional. Acoustic, sound-absorbing panels are fitted throughout the factory, making for a cleaner, quieter, and overall more pleasant work environment, meaning the team can focus more on creating exceptional joinery.
Diversity is also essential to creating a thriving workplace, where all ages, ethnicities, genders, and backgrounds are welcome. Members of the Wood Solutions team include five apprentices who are all training through BCITO, Te Pūkenga.
"We currently have five apprentices, two female and three males. A quarter of our workshop team are female," says Andrew.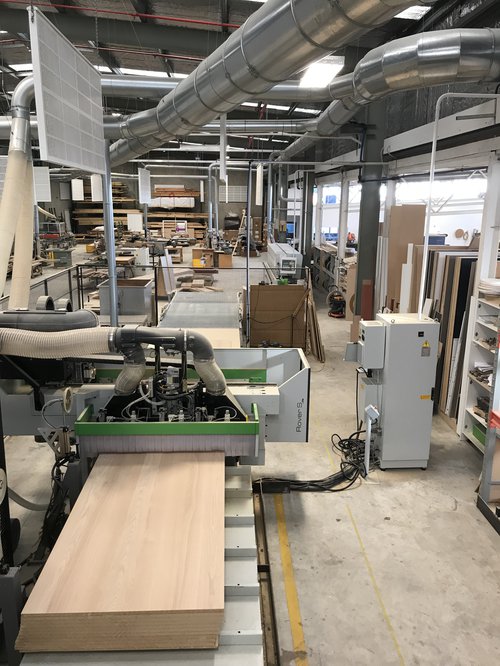 "Our apprentices are all at different stages of their courses; we purposefully stagger them so we can better cater to each apprentice at each level. We also find they can learn more from each other and better support one another, when there are different levels of experience in the group. We foster a collaborative environment, which means the apprentices are learning all the time."
Andrew would strongly encourage anyone who is considering an apprenticeship to give it a go.
"As someone who's been in the trades for a long time, I highly recommend them as a career option. Whether you are a school leaver or switching career paths, an apprenticeship gives you a good skill set and it's something you can always fall back on. It's also a really diverse sector, that allows you to take pride in your work and offers a lot of different paths for people of all backgrounds. Anyone can give the trades a go."
More News
Jess Nielsen stands out as a trailblazer after placing third at the 20th Annual Registered Master Builders Apprentice of the Year competition; the first woman to place and the second ever to reach the national competition.
You may be aware of the Government's intention to disestablish Te Pūkenga | New Zealand Institute of Skills and Technology.