Swapping the bat for a trowel
Lucy Doolan is a well-known name in New Zealand Cricket.
Having represented the White Ferns in 73 matches, she knows the importance of finesse and professionalism. Now Lucy is transferring her skills to an exciting new career in the trades, having recently started a tiling apprenticeship with Chris Black Tiling in Wellington.
After announcing her retirement in 2019, Lucy worked in sports field management before talking to the BCITO Sport team about the potential to retrain and gain a trade qualification.
"Many talented sportspeople are acutely aware they have much of their working life still ahead after retiring from a sporting career. We assist athletes to secure a successful future in the trades before, during and after their playing days are over through the BCITO Sport initiative," says Jason Hungerford, Director BCITO.
The BCITO Sport team specialises in supporting current and retired athletes into trades training. With a suite of qualifications available for players from school age to high performance, many options are available that can better prepare athletes for their life after sport.
BCITO Sport team member Dion Waller, All Black #1011, is working with athletes around Aotearoa to help showcase career opportunities to sportspeople looking to get into the trades.
Dion says, "I'm passionate about helping athletes reset their life compass, having been in their position myself. I understand the challenges of being a professional athlete, retiring and having to navigate back into the 'real world'. I love my job, and I get to work with many talented people to ensure they are well prepared and have a solid Plan B."
If you're a sportsperson keen to secure a successful trade career get in touch with BCITO on 0800 422 486.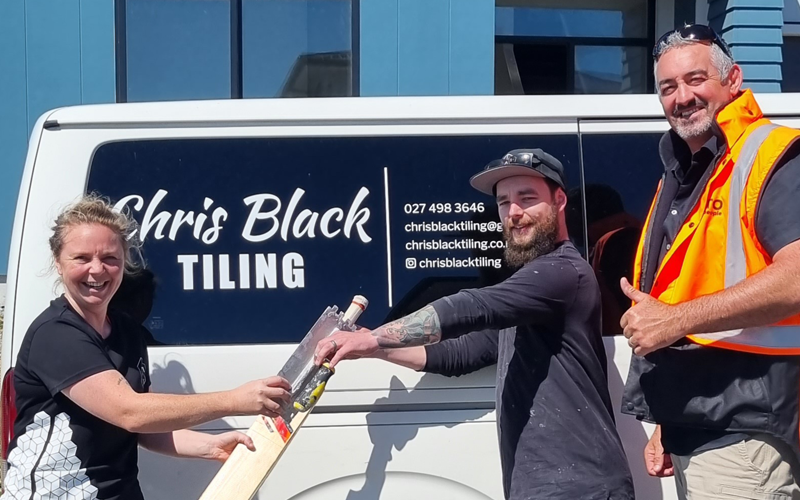 Lucy Doolan, Chris Black, Dion Waller.
More News
Wood Solutions have been carving out the way for sustainable practices and diversifying their workforce. They are minimising and repurposing waste and create a healthier and more welcoming workplace where 1/4 of their workshop are female.
Jenna Toailoa and her husband Manu's RedRock Plastering has been making a name for themselves with their high quality work all the while taking on apprentices, showing it can be done!