Take your time and have a plan
BCITO apprentices often go on to achieve great success in their field.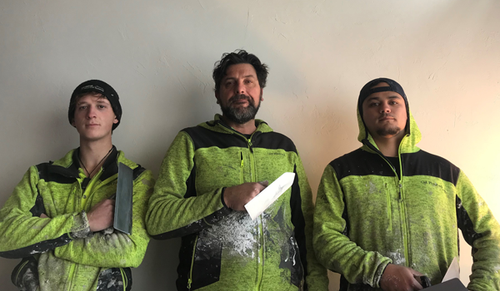 Apprentices' journeys take many different forms and Julian Robertson, the owner of Get Plastered in Christchurch, is no exception to this.
Julian started out working for a family business in 1989 working mostly with solid plaster and a bit of PPCS along the way. He started his own business nine years later before PPCS had become a fully credentialled trade. Growing up in an academic environment and then on a farm, Julian joined up alongside other applicators from around the country to get qualified in BCITO's first iteration of the PPCS qualification in 2001, he says, "I was the first in the country to complete this, then unit standards were redone and I did the apprenticeship again with my employees in 2004-2005 and again in 2014. Yes, that's right. I have done PPCS three times alongside various apprentices as well as the long-standing Solid Plastering National Certificate."
A true believer in the training and educational process, Julian has trained apprentices since his first qualification completion in 2001. He has seen a number of changes to the learning design and qualification over the years. "The requirements in the later years to ensure certain elements are done to a high competency level, the expectations upon applicators and apprentices to ensure a project is completed in a competent manner, and meeting compliance documentation and inspections have all raised the minimum standard," says Julian. "Technological advances have also played a big role in the quality of life for exterior plasterers - the use of technology to find relevant information is much faster these days." Not only does it help with training, but it has made compliance easier which is critical with the growing impact of regulations.
"Being alongside BCITO since 2001, I've seen many changes in the qualification, the reviewing and writing of the unit standards for NZQA, the changes in the building environment over the years, the introduction of the LBP scheme and the recent demands for training (due to a post-COVID industry boom). All of these changes coupled with the assistance from central government and BCITO have led to many more opportunities for Māori, Pasifika, women and migrants to enter the trades and forward their careers.
"Training apprentices can have multiple benefits. From making a better life for themselves and their families to improving standards within the professional industry." Julian enjoys seeing the appreciation after years of training. He says, "Knowing that they will go forth in life being capable of making a living or potentially becoming a self-employed business owner. It's a bit like the analogy give a man a fish and he'll eat for a day. Teach a man to fish and he'll eat for a lifetime."
There are a number of things to know and do in order to succeed in the trade. Julian shares, "One of the keys in Exterior Plastering is due diligence. This filters through every aspect of a business from understanding what things really cost – materials, vehicles, staff (including the time and energy to train them) to determining how you can become financially successful to seeking advice from mentors, whether from older tradies or financial advisors. The essential part of due diligence that underpins all of these is don't do anything twice. Slow down, take your time, have a plan and get it right the first time. Keep breaking records and keep coming back."
More News
We have put in place a vaccination policy and process that allows us to protect everyone and meets the requirements of the Covid-19 Protection Framework (traffic light system).
New Zealand Master Joiners Otago Chapter, BCITO and the National Kitchen and Bathroom Association have been holding a graduation ceremony for Joinery and Kitchen Design apprentices for ten years.