BCITO apprentices take on Outward Bound
In June, 16 BCITO construction industry apprentices from across New Zealand attended a 16-day Outward Bound experience in the Marlborough Sounds.
These apprentices were given the opportunity to connect with other like-minded peers, develop new skills and become future leaders in the industry. With the support of their employers, they were recipients of a BCITO scholarship, which enabled their attendance.
After the experience, BCITO spoke with three apprentices who attended; painting and decorating apprentices Christine Scott-Dick and Nathan Laurie; and Charmaine Farquhar, a glazing apprentice.
Christine Scott-Dick from Feilding was one of three mana wāhine scholarship recipients to attend Outward Bound. She started a painting and decorating apprenticeship two years ago and hasn't looked back since.
"I love the creative side of my apprenticeship and the opportunities it brings. I was stoked when BCITO called me and said that I was accepted into the course."
Christine says that she has become a more confident person and that her mindset at work and in her personal life has grown.
"It was a great place to be. Apprentices from across the trades and of all fitness levels came together to be really challenged. We left with smiles on our faces, knowing that we had changed for the better and learnt how to help others," said Christine.
Charmaine Farquhar from Motueka also attended Outward Bound under a mana wāhine scholarship. She undertook a glass and glazing apprenticeship almost by accident, after starting in an office role and then joining the practical side of the business.
"I wanted to build my confidence and learn about what I was capable of doing. The experience delivered, and I was physically and mentally challenged from day one. I made several great friends, and we supported each other throughout the process.
"When I told my managers about the opportunity, they were both really excited for me and let me take time off. They are already seeing the benefits of that."
Charmaine's employer Michael Knox said that she consistently goes above and beyond her job description and has a bright future ahead of her.
"The Outward Bound experience helped show Charmaine what she can do. She developed leadership skills and has taken on more responsibility. We really want to support Charmaine in her career and help her achieve her goals."
Painting and decorating apprentice Nathan Laurie from the Bay of Islands also received a scholarship from BCITO to attend Outward Bound. He first heard about the experience at high school but couldn't take part at that time.
"The Outward Bound programme was one of the best things I have done, and it changed my life. I didn't arrive with any preconceptions of what it might be like and had no idea how beneficial it would be. It has taught me to be more open-minded and shoot for higher, more ambitious goals. I made a number of friends from across the trades and have sparked a real interest in my career."
Outward Bound courses' finer details and activities are kept under wraps to ensure a challenging and unpredictable experience for all. Participants are pushed physically, mentally and emotionally. They grow their confidence and develop a better appreciation of themselves and the world around them. BCITO calls for applications annually around March/April for Outward Bound scholarships and has been offering these for over ten years as a contribution to help industry build leaders of the future.
BCITO needs more adventurous people to become tradespeople. Find out more about how to get started and what support and scholarship opportunities are out there for you.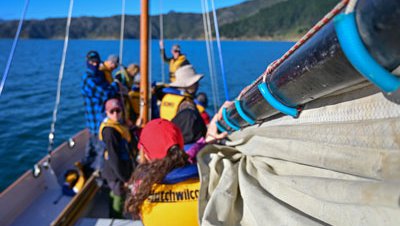 More News
When Charmaine Farquhar took a temporary role in the office of Palmerston North's Viridian Glass, she had no idea it would set her up with a career for life.
When Manson Jenkins was in his final year of college, he was working part-time at Orchard Joinery cleaning the workshop. Now in his second apprenticeship, Manson is making his way forward and forming a career all his own.