All talent is an asset
If you're looking for a straight answer to a serious question that helps the bottom line, such as who would you employ? you'll get one if you ask Brad Sandri at Ranger Specialist Coatings. 
Sometimes what seems doubtful is doable given a shift in perspective.  
We asked Brad what he would say to other employers thinking about employing women to work on the tools in the Resin industry. He replied,  "Employ the best person for the job. The female team members we have are all very driven, very skilled, heavily involved in what we do, from job planning right through to completion and are very important members of our team.
"I don't have any reservations. I look at applicants for positions based on their merits and skills, along with their attitude and how I feel they would fit our team dynamic. We have had four female tradies across the age spectrum, all from different backgrounds. 
"I have an all-inclusive policy, where everyone is included and treated the same. I speak briefly one-on-one with the team each week, along with planned meetings and regular reviews, so we keep lines of communication open and if there are any issues we deal with them.
"Laura Steer is our most recent addition to the resin crew."
When talking about any changes that Brad's had to put in place he says, "Haven't had to make any changes at all. Laura gets treated the same as everyone else. She does everything that's expected without issue. She gets going in the morning, gives the older fellas a hurry up if they need it, jumps in with whoever she is working with and away she goes." 
Laura's a trailblazer, a first, leading the way for other women interested in a career in resin.  She started in decorating and is currently finishing her painting and decorating qualification with plans on achieving resin next – dual trade tickets.  
Laura spoke to us about what spurred her interest in Resin, "It was the opportunity to try something new that I hadn't done before. I enjoy working across teams, the variety of trades and clients," she says.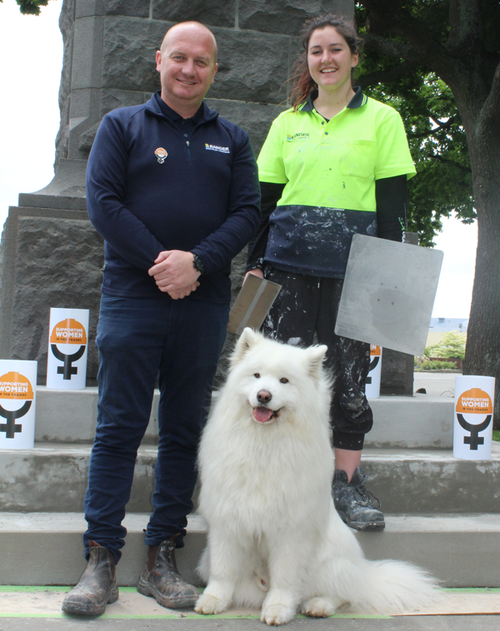 "I enjoy the ability to change the texture of these products depending on what's required. From high level super smooth gloss surfaces to aggressive non-slip rough surfaces and everything in between," says Laura."The best thing about resin is time constraints and pressure of the process. Always moving and thinking what's next, so the team stays on track. The time flies by during the day. I enjoy the satisfaction at the end of these jobs. To look back on what we have done is very cool.  
"There's nothing that I can't do really. Depending on what resin system we are using and what it's going onto, I read the information first, then ask questions. I've learnt how to prepare surfaces using diamond head grinders and large sanders. The right gear is important.

"My girlfriends and family are supportive of my decisions, and this is no different. They're happy for me to be doing something different and celebrate my successes.
When asked what advice she would give to other women looking to get into the trade, Laura says, "If you think it's what you want to do then go for it. Find the right company and team that fits and if an opportunity gets offered then take it". 
Brad Sandri, Laura Steer and Sako.
More News
The Building and Construction Industry Training Organisation (BCITO) has set a record of 16,000 apprentices in training.
Have you heard? – the NAWIC Excellence awards 2021 are happening and open for nominations!