Tania Bellamy and her lockdown bubble
Last year we caught up with Tania Bellamy of Wood Solutions in Dunedin who has made the change from a distinguished 20-year career as a teacher to the kitchen design industry.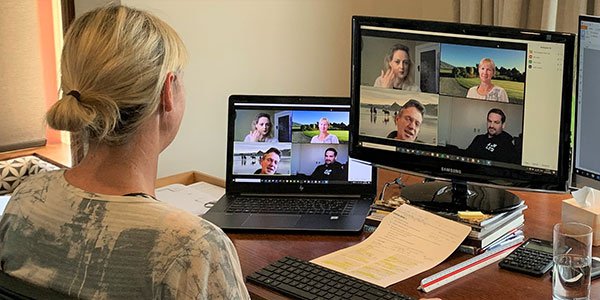 As all of New Zealand adjusted to life in lockdown, we thought we would take the opportunity to check in with Tania and her bubble to see what she has been getting up to in the last four weeks and see how she is progressing with her NZ Diploma in Design (Kitchen).
What have you been doing to survive in your bubble?
I have spent a lot of my time during lockdown doing a bit of gardening, getting our lifestyle block ready for winter and feeding the animals. I also have had plenty of time to work on my latest assignment and thanks to technology I am able to work remotely from home which has been great.
What social media video or story has made you laugh the hardest?
I came across a story on Strava of a French cyclist, who after seeing a friend run a marathon around their house decided to ride 100km on his bike around his house to see what his lawn would look like. He did it without putting a foot on the ground the whole time and never changed direction!!  We also set up a 'WhatsApp' for our work colleagues to post what they have been up to in their bubble which has generated lots of laughs and a bit of ribbing.
Have you participated in any Covid-19 challenges?
We participated in the Teddy Bear Hunt using my husband's well-travelled childhood bear putting it in the lounge window for the neighbour's children to spot on their daily adventures. We have had Zoom work drinks with colleagues, sharing stories about what they have been up to including one workmate who had a baby and added to their bubble.  My husband grew a Chopper moustache as part of a work worst haircut/facial hair challenge, and yes, he definitely should win!
Have any opportunities come as a result of been in a forced locked down situation?
I had the opportunity to attend a webinar on 'colour psychology' and 'timber veneer' which I found very beneficial towards my qualification. I have also had more time to put into my study and my assignment that I am near completing which is exciting!!
Has your bubble extended to your designer community?
In normal circumstances, my colleagues and I usually catch up over coffee during our lunch breaks, but during the lockdown, we have done this via phone calls, texts and Zoom.  I've also had a 'site visit' over the phone with my Training Advisor Bill Cubitt and together we have arranged a Zoom catch up with two other Dunedin designers to see how they are getting on during lockdown. 
Tania, we thank you for letting us into your bubble and wish you all the very best with your assignment. 
More News
The Building and Construction Industry Training Organisation (BCITO) has set a record of 16,000 apprentices in training.
Have you heard? – the NAWIC Excellence awards 2021 are happening and open for nominations!