Tania Bellamy a transition winner
We've been following Tania Bellamy's journey after she sparked our interest when making a radical change in her career trajectory.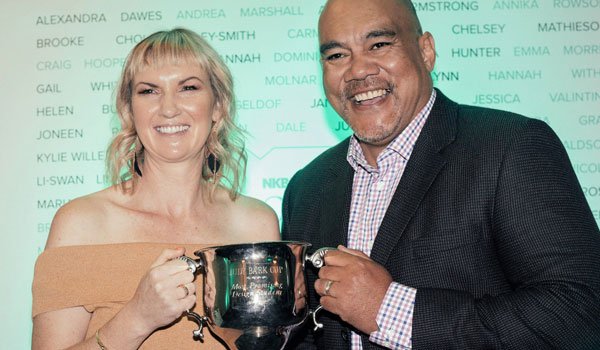 We caught up with Tania from Wood Solutions in 2019 after transitioning from a distinguished 20-year career as a primary school teacher to a new entrant kitchen designer.
After completing her first off-job training course with Mark Bruce and submitting her second assignment, the world changed with the pandemic forcing NZ into lockdown. Unquestionably a blow on many levels, but Tania was unphased and made the most of this by taking the time to work on assignments, research, attend webinars on topics like 'colour psychology' and 'timber veneer.'
In normal circumstances, she and other local designers (also completing the NZ Diploma in Design) would catch up over coffee to discuss tricky questions and bounce design concepts. However, during Covid 19 Zoom sessions and plunger coffee, replaced lattes and chocolate cake at the Morning Magpie, in Dunedin.
When Alert Levels dropped, the NZ Diploma off job training courses resumed. Tania completed her second and final course. She says, "It was a fantastic week of learning, visiting Blums' new showroom, and participating in the NKBA Master Chef challenge." With 50% of the qualification achieved, only two assignments now stand between her and her graduation certificate. At that time, what Tania didn't realise was her tutors had noted her commitment and design appetite.
In recognition of this, Tania was awarded the 2020 Judy Bark Cup for the Most Promising Student Designer of the Year. This was presented to her by Vai Punivai of BCITO at the NKBA 2020 Excellence in Design Awards hub in Christchurch.
Her tutor Mark Bruce said, "Tania bought a positive attitude to the class and got all her fellow students involved. She went out of her way to make everyone feel welcome and connected.
"In group sessions, she contributed well, asking intelligent questions and focused discussions. Although not yet an experienced designer, she showed the potential to think outside the square and give her clients something different.
"Her first assignment showed a massive amount of research and rated as one of the best I have received. This is even more remarkable as she has no CAD experience. She hand draws everything and has had no formal training in draughting. Although her husband has been involved in the industry all his working life until recently, Tania has been a full-time teacher, so she is relatively new to the industry. I was encouraged to see that her lack of experience didn't affect her research quality and the evidence she provided in the assignment.
She is also fortunate to work in a large supportive bespoke joinery shop, which will enable her to expand her design experience to high levels. She will be a designer who will make her mark in our industry as a good designer and a genuinely nice person."
Tania was surprised, shocked, delighted, and elated when the awards notification call came. She said, "I feel very proud and honoured to win the Judy Bark Cup as I know of other students who genuinely deserve it too. It was wonderful having the support of my boss, mentor, and husband at the awards to celebrate with me.
It was such a thrill to win the Judy Bark Cup, and it proudly sits on the reception counter at Wood Solutions above a glass enclosure of an old Weinig four- sider timber machine. Many thanks to Judy Bark, who donated the cup to recognise the 'Most Promising Design Student,' Bill Cubitt, and Jacqui Colbert of BCITO for the tireless work and enthusiasm they give to our circle of Dunedin designers. Mark and Milvia, NKBA tutors, for their expert knowledge and guidance."
Tania will receive her Diploma in 2021, after which her goal is to upskill her CAD skills and apply knowledge learned to renovate the family home.
It takes immense courage to change a career after 20 years, but Tania is the poster woman who knowingly drives her victory chariot.
This is a tale of transitional success and transferable skills. It serves as an excellent reminder when recruiting to look for what counts and remembering skills and knowledge can be learned. However, commitment, highly evolved problem-solving, analytical thinking, patience, and flexibility are dream traits that generally take years to perfect.
We congratulate Tania Bellamy on receiving the Judy Bark Cup and her courage to chase a dream. We also commend employer Wood Solutions for taking a fresh approach to recruitment.
Tania BCITO wishes you a successful and rewarding career, and we look forward to seeing your entry at the 2021 NKBA Awards for Excellence.
More News
The Building and Construction Industry Training Organisation (BCITO) has set a record of 16,000 apprentices in training.
Have you heard? – the NAWIC Excellence awards 2021 are happening and open for nominations!