Teacher becomes installer
Jeremy Donnell, a primary school teacher, recently returned to the Timber Joinery industry.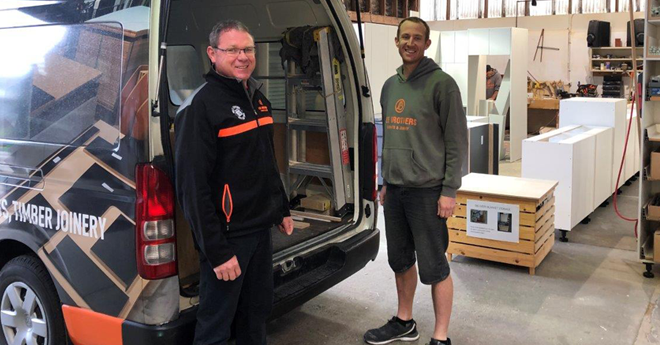 Jeremy Donnell is a trade qualified furniture maker who specialised in shop fitting for six years. He then moved into a sales role for an international company supplying hardware to joiners and cabinetmakers for another six years before re-training as a primary school teacher.  Now he's returned to timber joinery and works as an on-site installer for Lee Bros Cabinets and Joinery.
Lee Bros was established in 1926 by Alfred Lee and the company has trained a number of apprentices. They use new technologies and materials, along with some traditional skills, to create not only timeless timber joinery but modern and innovative kitchens and cabinetry fittings.
Jeremy says that he loves dealing with people. He says, "Children are amazing to teach, and the longer that you have them as students, the more invested you become in their success. I don't think anything beats the little 'light bulb' moments when you see a child suddenly understand an idea they have been struggling with. I now have more of an understanding of how people learn from my teacher training. This helps when teaching people who are new to the trade. Teaching also trains you to keep developing professionally by asking questions of yourself and asking others for advice.  I think this is very important in any workplace."
When he was working as a teacher, Jeremy and his wife found that teaching carried on into evenings and weekends. He says, "I felt like I didn't see enough of my wife and child. Cabinetmaking has more straightforward hours, giving me my nights and weekends back.  Another thing was that schools like to use fixed-term contracts, meaning I had to re-apply for my job each year. This adds stress and uncertainty to an already busy job. My installer role has more stability in it." 
He now daily uses the relationship skills he used during his teaching days in his role as an on-site installer. Jeremy is focusing on improving his skills in this role which is a new, developing role within the company. What he enjoys most about this industry is seeing the final product installed and witnessing the 'wow' moment when the customer sees it. He says "I really enjoy the accomplishment of completing a job, but also that I am doing different things daily. I get to meet a lot of people and overcome a lot of different challenges in my role. I love creating things and putting things together. Working with wood gives me chances to be creative in a productive way."
Jeremy reckons that shifting careers is not an easy choice. "I recommend talking to people you respect about your thoughts and why you are thinking about changing career. Weigh up the pros and cons. And if you do decide to take the leap, give yourself some grace in your new role while you adjust to it," he says. 
Jeremy's employer, Paul Ingram, says that Jeremy has great customer service skills and can deal with a wide range of clients. He believes that Jeremy's involvement in a diversity of industries enables him to look at his work from different perspectives and find solutions to challenges on site. 
To anyone considering a career in Timber Joinery, Jeremy says, "If you want a job that gives great satisfaction when you see what you have made and like a challenge then this is the job for you. But if you are coming in new give yourself time to learn. Nobody gets everything right 100% of the time. Watch people who have been in the trade a while, there is a lot you can learn from others."
More News
The Government has announced a $12.1 billion COVID-19 Economic Response Package for small to medium businesses and employees during this period of uncertainly.
The health and wellbeing of our industry's employers, apprentices, and our people are of paramount importance to us.