Teams commit when leaders inspire
Daniel Howe had never heard of the prenail industry before he started working at Akarana Timbers in Auckland 20 years ago - now he's the Prenail Manager.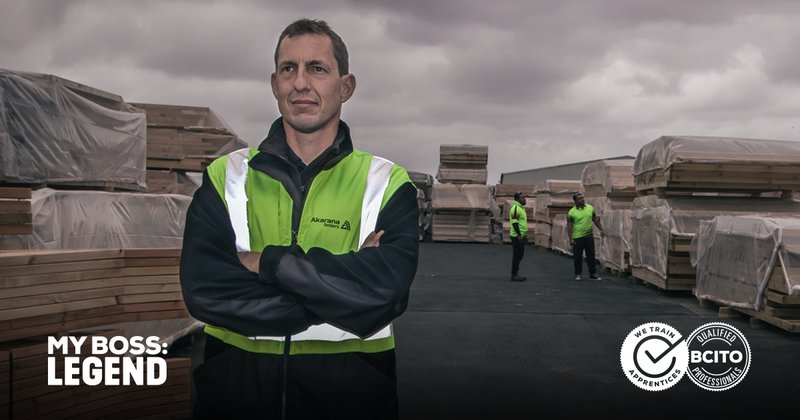 Daniel's not just another manager; he's a man of the industry who has worked his way up to where he is now. He understands the needs and demands of every aspect of the job and will often work beside his people to get the job done.
Daniel only commits his people to do things he would be willing to do himself. Because of this, he has gained the respect of those he leads. Daniel says, "As a leader, you need to be present in the business, approachable and genuinely care for the welfare of your staff." His people know he puts one hundred percent into everything he does and so they too are willing to make the same effort.
"Respect your employees and encourage constant improvement," says Daniel.  "We have high staff retention because employees are unlikely to leave while they are going through training. It has been my experience at Akarana that, once trained, staff rarely leave. People that we've trained or who are in training currently are now more engaged, more confident and feel more valued overall.
"If your employees have the right attitude and a sound work ethic then they can be trained." Daniel works hard to encourage his employees to develop their strengths and improve their performance, making sure all his people get the opportunity to better themselves whenever possible.
"I like to help and encourage employees to develop their strengths and improve their performance. I also motivate them by providing opportunities for professional development.
"On top of apprenticeships, we offer a range of courses and training giving staff full exposure to a full range of industry skills and knowledge. Currently, we have a numeracy and literacy course running. We also have regular forklift training, supervisory training, warden and first aid training as well as seminars on money management and Health and Safety.
"If you do this your employees will give back by putting their all into everything they do. They will be willing to go the extra mile to get the job done on time even if it means staying a little later one day to complete a job when we're very grateful for their willingness to do so." 
"Having trained staff also gives a business credibility in the market. If you have staff that are formally trained, you can say that your staff have been 'benchmarked' and that your people have a certain professional level of skill and understanding."

Legend 'wise words'
an effective leader
is present in the business, approachable and genuinely cares for the welfare of their staff.
a commitment to industry training means getting people into apprenticeships. A lot of work has gone into the development of qualifications, and we owe it to ourselves and our industry to support them.
best business decision was to start training.

life-long learning means striving for constant improvement.
in 5 years I'll see many of the same faces working with me, a little older, a lot more experienced and all BCITO qualified!
Daniel Howe, Akarana Timbers
View Daniel Howe's story and more stories about legendary bosses.






More News
NAWIC are delighted to have received a significant increase in entry numbers for their fifth annual Excellence Awards, this year in partnership with BCITO. Finalists have been announced today.
The Building and Construction Industry Training Organisation (BCITO) is pleased that the Government is moving quickly to establish the first construction Centre of Excellence (CoVE).