Terracotta to porcelain and still tiling fit
Lance Aydon, of Toucan Tiling, knows the value that apprenticeship training creates for people, businesses and the sector as a whole.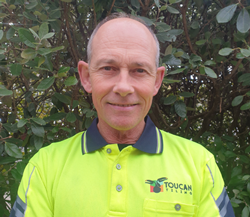 During his 33 years in the tiling industry, Lance has learned from true artisans, worked all over New Zealand (including the Chatham Islands), achieved his tiling qualification, and trained his fair share of apprentices. BCITO has been privileged to have Lance as a member of the Tiling National Advisory Group for the last ten years. 
I recently caught up with Lance to discuss his passion for training, to learn more about his involvement with BCITO and to glean some top tips others may find useful in training their apprentices.   
Lance established Toucan Tiling Ltd in 2013 in conjunction with his business partner Geoff Mitchell. The company mainly focuses its efforts on architectural homes and residential work. Lance is in his 50's now and is (in his own words) "Still tiling fit!" He has a loving partner and two sons and is based in Sydenham, Christchurch. "I enjoy a bit of running, playing darts, drinking craft beer, dining out in Christchurch, and seeing the Crusaders win again." You've gotta love a 'Saders fan…
Lance got his start in the tiling industry working as a labourer in Auckland in 1986. "I was working for an experienced tiler doing a mix of commercial and domestic, back in the days when terracotta tiles were all the rage and 600 x 600 porcelain tiles weren't a thing." 
Lance says there's a lot to love about the tiling industry. "There's the aesthetic element of creating spaces that are appealing to the eye. Then there's the constructive element, which involves using plans and specifications to set out a job, applying industry skills to fix and grout tiles to the highest level possible. Tiling is a trade that presents many challenges, but the rewards of a job well done are incredibly satisfying." 
BCITO has been working with Lance for the past ten years through his contributions to the Tiling National Advisory Group (NAG). Lance devotes his time and energy to ensure the tiling industry has a voice. "Rubbing shoulders with BCITO professionals and highly skilled tiling industry peers is a great privilege. I'm always keen to make sure that the tiling qualification is as fit for purpose as possible. It's so important to ensure that apprentice tilers have the opportunity to train to a high standard. My role as part of the NAG is to inform, debate, question, and learn with a motivated and passionate industry focused group." 
Lance has trained several apprentices over the years. "My three qualified apprentices have now been with me for some time and have given so much value back to my business." His top training tips are, "To be patient. Tiling is not learned overnight. Offer plenty of variety and opportunities to tile in both commercial and domestic situations. Maintain an active interest in your apprentice's progress, as they will really appreciate this. Finally, be proud that you are training the next generation of qualified tilers. Encourage your team apprentices to aim high and strive for excellence." 
The Government assistance packages now available to employers and apprentices are enticing more of the industry to consider getting involved with formal training and qualifications. "Now just might be the time for many to take on an apprentice. There is a large pool of people out there looking for opportunities to get into the trades right now. If you and your business are up to it, give hiring an apprentice a go!" 
BCITO would like to thank Lance for his continued support over the years and his involvement on BCITO's Tiling National Advisory Group. 
More News
The Building and Construction Industry Training Organisation (BCITO) has set a record of 16,000 apprentices in training.
Have you heard? – the NAWIC Excellence awards 2021 are happening and open for nominations!