Tiling done wright
When looking for a full-time job following high school, BCITO-qualified tiler Hayden Wright ended up in the trade "out of convenience".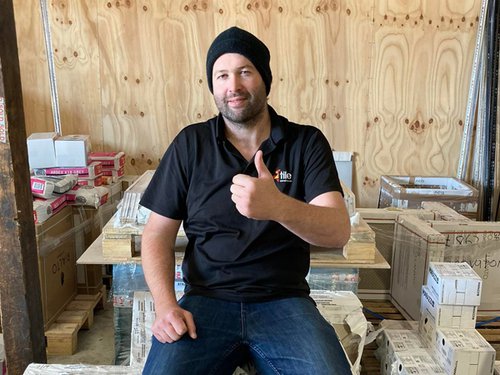 Little did he know, tiling would provide him with a fulfilling and rewarding life-long career.
"I had a role at a large construction company but wanted something more exciting. My flatmate at the time was a tiler, and after his trainee left, he offered me the job. I took a chance and it worked out well!"
Hayden didn't start his tiling apprenticeship until he was eight years into the trade, but decided he needed to increase his knowledge in both the practical and theoretical aspects of tiling.
"In my first few years, I'd learnt some good skills – but also some imperfect habits. Throughout my apprenticeship with BCITO, I learned a lot of lessons I wish I had known from day one. Learning the theory really helps, and I'm a staunch advocate for encouraging would-be tilers to undertake an apprenticeship."
Hayden completed his apprenticeship in 2013 and ran his own tiling business until 2016. While he enjoyed being self-employed, he decided that joining the team at The Flooring Room Nelson was an exciting new opportunity.
"Tiling has afforded me and my family the ability to live life on our own terms. My wife is able to be a full-time mother, and I get to work reasonable hours on a decent income. I also get to work on a range of really interesting jobs throughout the local community."
Hayden is so passionate about tiling that he runs an Instagram account outlining his everyday adventures. With his positive attitude and strong sense of humour, he has amassed over 1,500 followers.
"I really enjoy sharing what I do. It's important to show the creativity that goes into trades such as tiling. We get to do a range of cool jobs and meet a large number of interesting people. I even met someone formerly from Weta Workshop who was impressed with my videos!"
Hayden now teaches and mentors his own apprentice, who is training through BCITO.
"It's nice to see things come full circle. An apprenticeship provides a strong foundation to learn from, and also helps safeguard you from picking up bad habits, while preparing you for a fulfilling and successful career."
BCITO needs more people from all backgrounds to consider a career in the trades. Learn more.
More News
Chelsey Froese is now a BCITO qualified painter living in Queenstown having originally moved from Canada on a working holiday visa. We spoke to Chelsey about her decision to remain in New Zealand and undertake an apprenticeship.
As of 1 January 2023, BCITO | Te Pūkenga has officially transitioned from being a work-based learning subsidiary, to one of 25 operating divisions within Te Pūkenga New Zealand Institute of Skills and Technology.