Timber Joinery - a woman's best kept secret
COVID-19 has impacted us all and 2020 will be a year that none of us will forget in a hurry. COVID-19 has rocked the world's economy, and New Zealand is no different with over 31,000 job losses, two-thirds of the job losses affected women. Many of these women skilled and work-ready.
The New Zealand government has responded to this economic crisis with major investment in the construction industry with "shovel ready" projects and significant support for addressing job loss through measures such as the Apprenticeship Boost and 'free trades training' packages.
While the construction industry is still male-dominated, there are some fantastic opportunities for women in the industry. Timber joinery in particular, while the numbers of female apprentices are low, their success rates are high.
Two women who are enjoying success in timber joinery are Raukawa Emery and Darven Emery. These two are cousins who have recently joined Fernlea cabinetry and joinery after completing the 10-week Waikato Tainui, BCITO work start program. This partnership program aims to build confidence and equip participants with skills and exposure to a range of building and construction trades. Its success is dependent on the quality participants, iwi and whanau support, connection with employers and leadership from BCITO.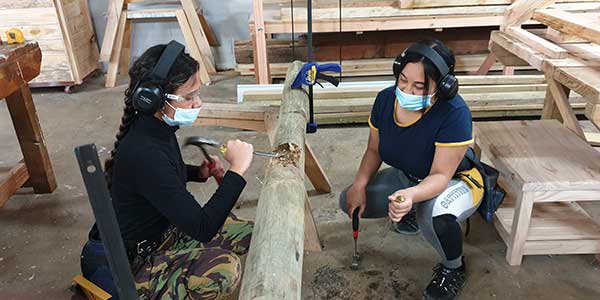 After experiencing a range of trades, they were both drawn to the detailing and finesse that joinery requires. In turn, Linda and Frank Lawrence of Fernlea Cabinetry and Joinery were impressed with these young women's energy and have offered them both jobs. Raukawa and Darven are enjoying being part of the diverse team at Fernlea and hope to start their apprenticeships soon.
"It takes a lot of hard work and dedication to get where you want to be. It takes a lot of responsibility to be able to get through the tough times and still be independent and still get the mahi done. For my future, I want to be able to say I have been a success and be able to share my knowledge with the next generation, and hopefully inspire the rangatahi to become what they put their mind too," says Darven Emery.
More News
The Building and Construction Industry Training Organisation (BCITO) has set a record of 16,000 apprentices in training.
Have you heard? – the NAWIC Excellence awards 2021 are happening and open for nominations!