Top AAJ apprentices 2022
The Window & Glass Association New Zealand Gala Awards dinner took place on Friday, 1 July at the Town Hall in Christchurch.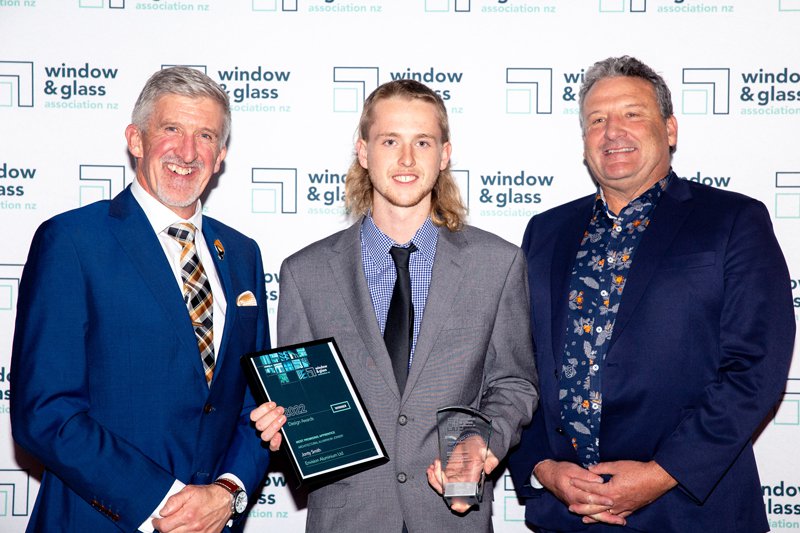 (l to r) Stuart Caulfield, BCITO, Jonty Smith, Glenn Duncan, BCITO
Attended by 225 people, the event celebrated the crème de la crème of the New Zealand Window and Glass industry.
We would like to congratulate our two AAJ apprentice award winners:
AAJ Apprentice of the Year: Emma McIntyre, Elite Window Solutions 2016, Warkworth
AAJ Most Promising Apprentice: Jonty Smith, Envision Aluminium Ltd, Blenheim
All apprentice award winners made an acceptance speech. When we caught up with Jonty Smith after he received his award, we asked what winning the Most Promising Apprentice Award has meant to him, he said, "When I received the call advising me of the win, I was a little shocked, maybe overwhelmed. This experience has certainly been humbling. When you grow up with a learning disability like dyslexia, I have never won an award of any description academically. I guess this proves when you become passionate about what you do, and you work consistently hard and form good routines, you can achieve at the highest level."
Emma McIntyre was not able to attend the awards evening due to being heavily pregnant and unable to fly. Her award was accepted by family friends who were able to attend on her behalf. We wish Emma all the very best for the safe arrival of her baby.
It was fantastic to celebrate the success of BCITO's up-and-coming AAJ apprentices and we wish them all the very best in their apprenticeship journeys and careers in the AAJ sector.
We would also like to extend our congratulations to all the other industry award winners and a huge thank you to the Window and Glass Association NZ for a great evening of celebrating industry's best.
More News
When Charmaine Farquhar took a temporary role in the office of Palmerston North's Viridian Glass, she had no idea it would set her up with a career for life.
When Manson Jenkins was in his final year of college, he was working part-time at Orchard Joinery cleaning the workshop. Now in his second apprenticeship, Manson is making his way forward and forming a career all his own.