Top Flooring apprentices celebrated at awards
Press release 20 July 2018
New Zealand's best flooring industry apprentices were recognised at the annual Flooring Apprentice of the Year Awards in Auckland on 19 July.
The event, held by the Building and Construction Industry Training Organisation in conjunction with the National Flooring Association, is the largest annual get together of the flooring industry in New Zealand. It honours excellence and dedication towards training.
Supreme Award winner, Connor Whitley-Su'a, is already stepping up to help new apprentices enter the industry. Whitley-Su'a completed his training through Hills Commercial Floors Ltd in Auckland and quickly moved into a supervisory role with the company. He has now started up a contract installation business, (contracting to Hills Flooring) and is training an apprentice himself.
"The awards are a fantastic opportunity for our top performing trainees to be celebrated by their peers," says BCITO Chief Executive Warwick Quinn. "All the winners are fantastic role models who are already proving themselves in the industry."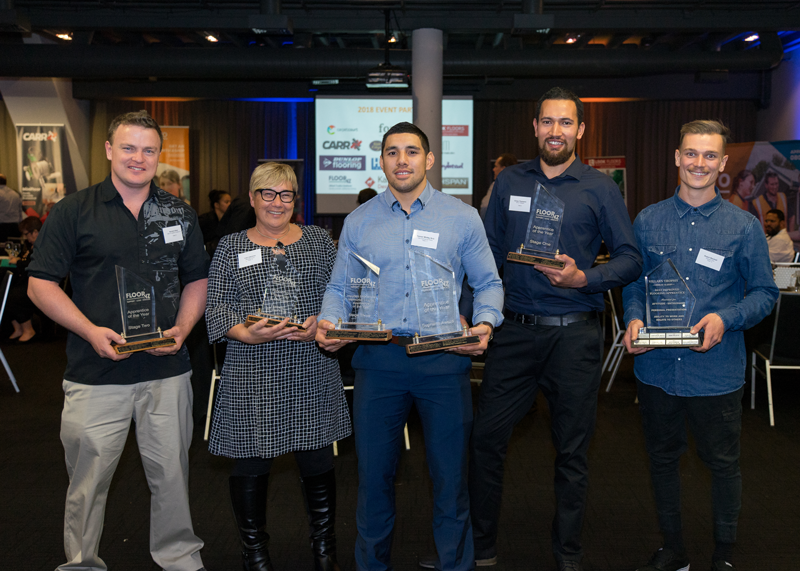 Career options are bright for those working in New Zealand's flooring industry. The sector currently employs more than 7,000 people but needs an additional 3,000 new workers by 2022. 
Quinn believes anything is possible with a career in the trades and is encouraging people to trade up. "Trades careers are financially lucrative and offer rewarding pathways. Berl research proves that because apprentices earn while they learn they can buy their own home sooner and are better off for their entire working life when compared to a university graduate."
The event was only made possible by the generosity of its sponsors: Carpet Court, Carr Group, Dunlop Flooring, Forte Flooring, Gilt Edge Industries, Handley Industries, Karndean International NZ, Look Floors, Robert Malcolm Ltd, Sleepyhead Manufacturing, Techspan Group.
The Flooring Apprentice of the Year Award winners were selected based on the achievement and skills they displayed at their respective block courses. The 2018 top achieving flooring apprentices are:
Supreme Apprentice of the Year and Stage 3 – Flooring Apprentice of the Year: Connor Whitley-Su'a, Hills Commercial Floors Ltd, Auckland
Stage 1 – Flooring Apprentice of the Year: Clintyn Thompson, SW & T Williams, Putaruru
Stage 2 – Flooring Apprentice of the Year: Kenneth Aitken, Skip-2-it Carpets & Curtains Ltd, Ashburton
Stage 3 – Flooring Apprentice of the Year: Connor Whitley-Su'a, Hills Commercial Floors Ltd, Auckland
Villars Trophy - awarded to the apprentice with the best attitude, enthusiasm, personal presentation and ability to work well with others: Robert Marshall, Flawless Floor Finishes Ltd, Whangaparaoa.
Flooring Planning and Design Trainee of the Year: Lisa Lawrence, Basically Floors Ltd, Auckland
ENDS
For more information or to arrange an interview with a winner or BCITO please contact
Lucy Hall
Acumen Republic for BCITO
04 494 5135 / 021 0762 149
[email protected]
More News
If you're looking for a straight answer to a serious question that helps the bottom line, such as who would you employ? you'll get one if you ask Brad Sandri at Ranger Specialist Coatings.
Jayden Renner-Ellis is the newest Monumental Masonry Apprentice and is employed by Glover Memorials in Wellington.