A top trainer
Viridian Glass in Nelson is starting to get a reputation as one of the top training companies in the glass & glazing sector and with good reason too.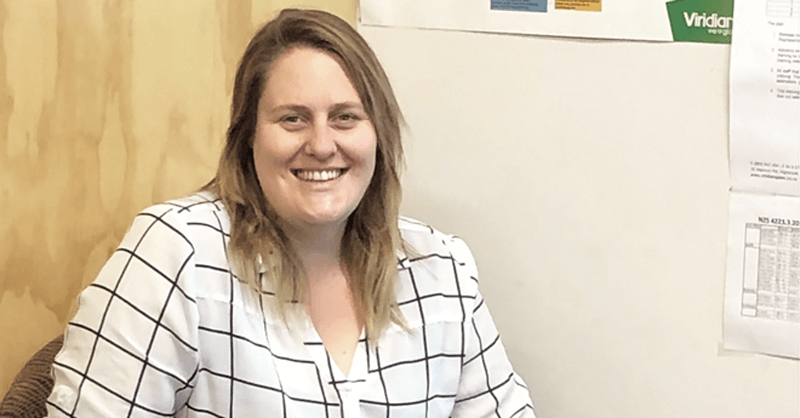 In the last 2 years we have seen Viridian Nelson apprentices collect a Most Promising Apprentice Award (Ethan Taylor, 2018 award winner) and an Allan Sage Memorial Award for Apprentice Excellence (Darcee McInnes, 2019 award winner) but according to
Jacqui Clayton
they don't plan on stopping there.
Jacqui has been with Viridian Glass in Nelson for 10 years (formerly known as Tasman Glass) and is currently working as the Installations Manager where she oversees the sales and glazing teams. Jacqui has been actively involved in training apprentices since 2015, she says "we currently have three active glazing apprentices and have five staff going through the supervisor qualification, myself included". 
Jacqui believes having a solid training environment is key to the success of Viridian Glass (Nelson) and as she puts it, consistency is key. "We are very lucky that we can take processors from our factory through their apprenticeship, what this means is we know they already like glass. From day one each apprentice is learning, there is no labouring or sweeping up. They are paired up with a senior staff member and train with that individual for the first 12-18 months. This gives the apprentice consistency around their learning before going out on their own".
With Jacqui's passion for apprenticeship training and the glass & glazing industry on show it was no surprise to see her invited to join the BCITO National Advisory Group (NAG) for Glass and Glazing. "I am really excited about joining the NAG, getting the opportunity to work with others who are so passionate about our industry and have the common goal of seeing it grow is something I am really looking forward to" Jacqui said.
As for those employers who are contemplating signing an apprentice up, Jacqui thinks it's a no brainer, "it's an investment, there are of course risks but if you put the time and effort in the rewards are huge." With apprentices in very good hands, it will be no surprise to see more Viridian Glass Nelson names amongst the winners of future apprentice awards. 
More News
PRESS RELEASE 14 MAY 2020 - Speaking today after the announcement of the Budget and the $1.6 billion Trades and Apprenticeships Training Package, Warwick Quinn, BCITO Chief Executive congratulated the Government.
A summary of the meeting held on 7 April.