The total package
For 15 years all Reagan Thomas has known is windows and doors. Now in his role as Project Manager of Total Windows and Doors, he is leading a successful operation in the sunny Taranaki.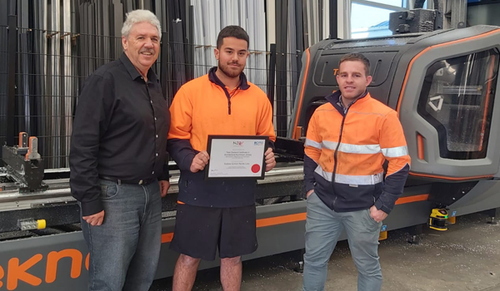 Total Windows and Doors is a real family business and for Reagan, it all started when he was a teenager. "I have been involved in the aluminium joinery trade since I was 14-15 years old, I started off doing jobs in the school holidays and it's gone on from there. This was also about the same time that the family business started so I have grown up talking about windows and doors," says Reagan.
Total Windows and Doors was founded in 2006 and the work that they specialise in is supplying windows and doors to new buildings in the lower North Island. Reagan says they first started training apprentices when the windows and doors industry was looking to have registered installers, "I was involved in the installation course, this involved a practical day learning the code for installation with professionals and it really opens your eyes as to the benefits of having industry training. From there we have had a lot of fresh team members join as the business has grown, and we feel that it is important they learn the skills and the regulations to give them a depth of understanding as to why we build windows a certain way with the correct components to meet the code."
There have been a number of apprentices go through their time at Total Windows and Doors which emphasises the value the business has on training, for Reagan he believes that training is as much for our staff personally as it is for the entirety of the company. He says, "The thing about apprenticeship training is that it also gives them a chance to become an expert in their job, and they can be proud of their work on the many impressive projects we have worked on over the years. The training enables them to get experience across all the areas of the process of manufacturing and can implement their learnings daily as they are working in the industry and as they upskill. They can grow with the business and take on more responsibility, such as training others or becoming a team leader."
With the success that Reagan and his team have had at Total Windows and Doors, it feels appropriate to ask what advice he has for other employers in the Aluminium Joinery industry thinking about training. For Reagan it's simple, he says, "Support them in their journey of becoming qualified and give everybody a chance to become a recognised window and door professional. It is a great opportunity for personal growth of your staff and having a practical qualification is a great confidence boost for employees, especially younger team members."
More News
We have put in place a vaccination policy and process that allows us to protect everyone and meets the requirements of the Covid-19 Protection Framework (traffic light system).
New Zealand Master Joiners Otago Chapter, BCITO and the National Kitchen and Bathroom Association have been holding a graduation ceremony for Joinery and Kitchen Design apprentices for ten years.