A tower of knowledge and skill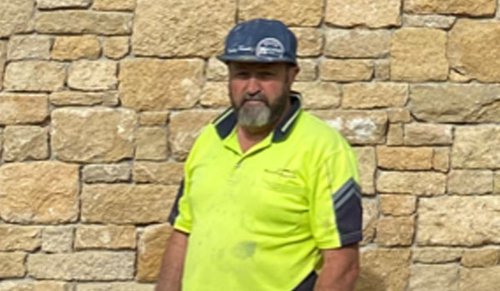 Ever noticed how the expressions of the stone faces carved into the buildings in the Wellington CBD change as you walk past? Glenn Bosworth of Bosworth Stone Ltd and Bosworth and Barthel Stone Restoration Ltd enlightens us to the practice that stonemasons had of carving caricatures of themselves into the stonework features. Each carving is slightly different as it is a hand-carved piece of art.
Glenn has been in the Stonemasonry trade for many years. While doing his OE in the UK in 1991, he became involved in the London City Guild. He attended 1-2 day workshops every week as part of his work experience and stonemasonry training.
Since returning home and becoming well established in NZ he has worked on some iconic buildings including the Lyttelton Timeball restoration and the new Johnsonville library.
"The Stonemasonry industry is incredibly rewarding and suits people who can visualise in 3D, are physically strong and creative. For those who want to progress to decorative carving, banker masons are often willing to train apprentices. The NZ Stonemasons Association would be happy to assist to help apprentices to gain well rounded, broad experience," Glenn enthuses, as an active member of the NZ Stonemasons Association.
Glenn is always on the lookout for an apprentice who specifically wants to do stonemasonry as a career. Many of his employees and apprentices have previously come from France and he would love to train up another local person. He says the work is really interesting, but projects take a long time and you need to be really passionate about it. Glenn sits on the BCITO Stonemasonry National Advisory Group to ensure BCITO is aware of industry stresses and strains and, therefore, how it can assist with workforce development.
Glenn enjoys the outdoors and his expertise sees him travelling around the country working on everything from garden and feature walls to exclusive high-end residences. Currently, he is working on a large upmarket home in Hawkes Bay using limestone from northern Wairarapa.
"One advantage of this trade is that it is more upmarket and generally a bit less susceptible to fluctuations in the economy. The work is tough, but satisfying, with lots of variety – especially in the big centres," says Glenn.
To anyone considering Construction Stonemasonry as a career, Glenn says, "They must be up for hard work, love working outdoors using their hands as well as their mind, and learning techniques to ensure their body will last and thrive. A certain amount of strength is needed, but good use of mind and body combined is more important for both men and women equally. They will often have a love of history, architecture and design."
More News
The Building and Construction Industry Training Organisation (BCITO) has set a record of 16,000 apprentices in training.
Have you heard? – the NAWIC Excellence awards 2021 are happening and open for nominations!