Training to build people and loyalty
Mark Scammell of Scammell Painting & Decorating Ltd, is a strong advocate for apprenticeship training. He has amassed a little over 30 years' experience in the industry and has a long record of training apprentices.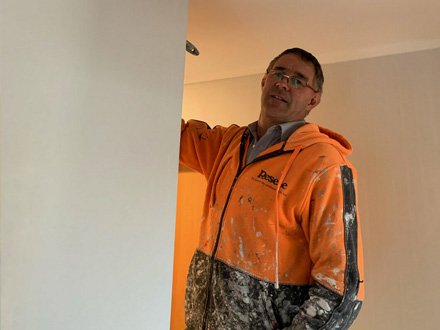 Mark shares his tips and tricks on training and explains his belief that training can help companies build loyalty all while developing their people. 
Mark joined the painting and decorating industry in 1989 when he went to work with his father, Roger Scammell. Roger founded the company in 1979. "I was about 20 when I started working for my father. He happened to be busy in the lead up to Christmas that year and I thought I'd help him out and see how it went." It obviously didn't go too badly, as Mark has been working in the industry ever since. There's a lot to enjoy about working as a painter decorator, Mark says, "It's great moving around different jobs and not being stuck in the same workplace every day. You get the best of the weather by painting outside in the summer and inside during the winter! It's also great discussing projects with homeowners and helping them to achieve their dreams."
Scammell Painting & Decorating has trained a number of apprentices over the years. "We have one current apprentice and three ex-apprentices still working for the company. One of the team has been with us for 20 years, while the other two have worked with us for around 15-17 years,  say Mark.  He's also really proud of those apprentices who have trained under him that are now running their own businesses. "Two of my old apprentices have been running their own successful businesses for at least ten years. Some people see this as a negative, but as a business owner you want to be around people doing good business, not amongst cowboys," Mark says. 
Mark's tip for training an apprentice is to, "Give them a go early on at painting and don't hold them back. Some apprentices get stuck working on sanding and prep for too long. They understandably get bored with that if it's all they are doing. I have a reasonably new guy on the team at the moment and we have a job coming up where we are planning to give him a room to paint."
Mark has been giving back to the industry and apprenticeship training for ten years through his involvement in BCITO's National Advisory Group. He says, "I put my hand up to be involved because I like helping others in the trade succeed. One of the ways I can do that is by promoting the advantages that apprenticeships and training offer companies." Mark's always willing to speak to anyone about the benefits of training. 
BCITO would like to thank Mark for his continuing support over the years through supporting apprentice training and his membership on BCITO's Painting and Decorating National Advisory Group.
More News
As free trades training starts, being an apprentice and training in trades have become so much more attractive.
WorkSafe would like to ensure that you are aware of the risks of working with engineered stone benchtops, used primarily in bathrooms and kitchens.