Training the next generation of tilers
Imagine waking up excited to go to work every day, knowing that you're going to learn something new, work in a new place with like-minded people, and create something that people genuinely love. This is Marek Guzinski's reality and one that he is excited to be passing on to the next generation of tilers.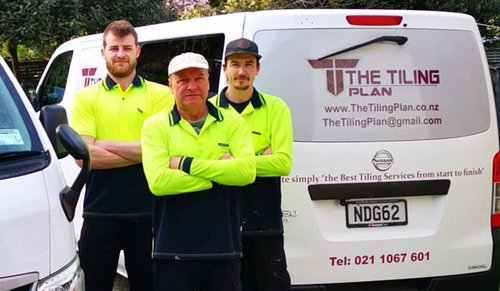 Marek has been professionally tiling for 20 years in Nelson. He has begun training his son Nikolas and friend Mitchell to work towards achieving their tiling qualification with the support of BCITO.
Marek grew up in Europe and started working in the construction industry in his late teens to support himself while studying engineering at university. He worked in various trades until deciding that tiling was where he wanted to make his mark. "Tiling is like artwork. I get to put my own stamp on every project and create something that people love. When you finish a job, you know that it's perfect when you see the happy reaction from the client."
Marek says that working with the BCITO has been great for his apprentices. "I know that there's support from the BCITO and that the apprentices will finish with a recognised qualification." Nikolas and Mitchell are both enjoying working and learning in the tiling industry. They both commented that there's always something new to learn and that they see tiling not just as a job but a career.
Marek also shared that training has also been beneficial to The Tiling Plan. "Once an apprentice is trained up, you've halved your workload. It's also nice to have a team and another person to help onsite. The reaction we get from suppliers, other tilers, tradespeople and customers that we train apprentices has been really positive."
It's also personally rewarding to train others and watching their enthusiasm grow. "Everything that we do is second nature to us once we are qualified and experienced, but it's exciting that the apprentices get a thrill out of it. I ask both my apprentices what they've learned at the end of the day. They always have an answer. Once they've told me what they've learned, I tell them what I learned. They're surprised that I'm still learning something new every day, and I really do. Every job is different and requires you to think outside the box."
Marek still loves his work and is excited to pass this passion and skill onto Nikolas and Mitchell. "I'm genuinely so much happier now. I've got so much more to give because I'm giving it to these two. Nikolas and Mitchell are good friends and will work as a team when I decide to retire. It's great knowing that I can support them and that the business will continue to grow. I'm not just shutting down shop and turning off the lights."
Marek wanted to acknowledge the government's support available to help more businesses train apprentices in the trade. "The support from the government helps make training more affordable and helps you do something very worthwhile."
More News
Press release 18 October: Te Pūkenga is commencing engagement on its proposed Operating Model today.
Te Pūkenga adds building and construction to its toolbelt today, as the arranging training functions of the BCITO were transferred to Te Pūkenga Work Based Learning Limited.