Training a win-win for forward-thinking company
Asi and Tania Tufau of Turtle Tile Contracting Ltd say that putting their team through BCITO's tiling qualification is a real win-win for their business and their team.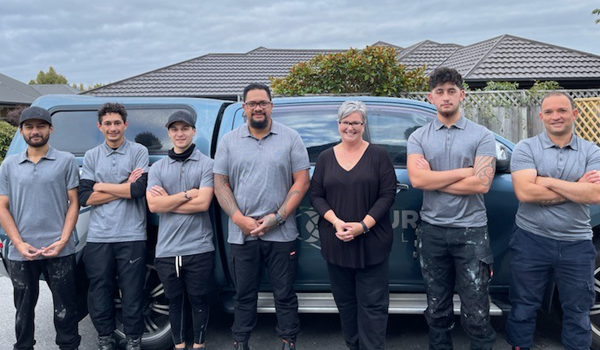 "The team are very keen to earn their qualifications. We want our company to be different, forward-thinking, and to stand out, especially during the uncertainty in the COVID environment. BCITO qualifications help us do that. Our company's philosophy is not to only see ourselves as just a trade, but true craftsmen. In order to be craftspeople, we need to have skill bases in our team that are constantly being worked on," says Asi.
Asi is of Tongan and Cook Island Māori heritage and was born and raised in Rarotonga. He describes his beginnings as very humble. Asi left school when he was 14 with no qualifications and minimal English skills. He started working as a labourer for a retired Australian tiler who was living in Rarotonga. Asi explains, "Tiling in the Cook Islands is quite different to New Zealand … we had very limited equipment, tools, materials, and transport. My boss and I went to work on scooters."
Asi and Tania returned to New Zealand in 2001 and settled in Tania's hometown of Christchurch. Asi proved his skills and built a good reputation in the industry by tiling some high profile local jobs. After growing in confidence experience, the pair then started their own company, Turtle Tile Contracting Ltd, in 2017. They have a total of seven staff, five of whom are actively engaged in their tiling apprenticeship. "A couple of our team are fairly new to tiling, having less than a year's experience. The others have five years plus experience but have never had the opportunity to get qualified." BCITO's tiling qualifications are designed to fit all levels of experience and skills.
BCITO is also working together with Asi on the different ways the team members learn. "We have different levels of formal education within our team, and everyone learns differently. Someone might find that studying from their books works best for learning a particular skill, while another might it pick up quicker practically. BCITO recognise this and work with each of the team to find out what works best for them. We also encourage the team to support each other's learning through quizzes at our toolbox meeting."
Asi explained that Turtle Tile Contracting Ltd aren't your average tiling team. "Our crew are almost completely made up of New Zealand Māori, except one Brazilian, and is led by a Cook Islander. We are helping to break the stereotypes of what people expect tilers to be. We like our team to know what they are working for, to create a future for their family and feel good about themselves and what they do."
It was an absolute pleasure getting to know Asi and Tania. They both want to pass on their thanks to their local BCITO Training Advisor, Kyle Wills, who continues to support them and their team through their training.
More News
We have put in place a vaccination policy and process that allows us to protect everyone and meets the requirements of the Covid-19 Protection Framework (traffic light system).
New Zealand Master Joiners Otago Chapter, BCITO and the National Kitchen and Bathroom Association have been holding a graduation ceremony for Joinery and Kitchen Design apprentices for ten years.