Trust in your team gets the job done
Russell Clark (Russ) has been in the trade since he was 15. For almost as long as he's been in the industry, he's also been an employer. At age 25, Russ was a qualified carpenter and employing his first apprentice.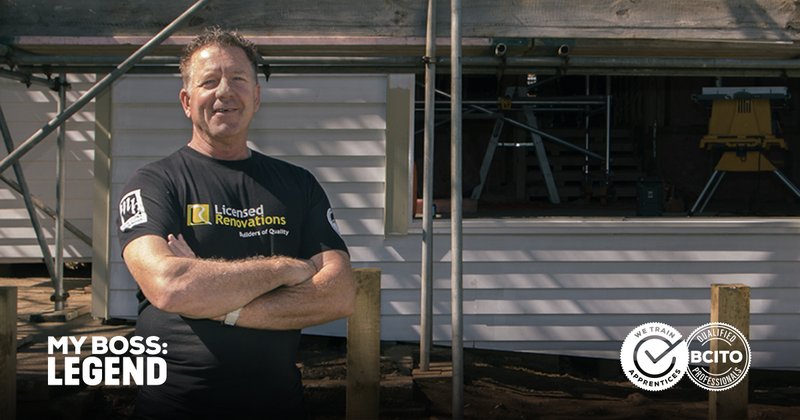 Since getting qualified Russ has employed and trained many apprentices, supporting them with the same opportunities he's been offered in the construction industry. Russ says, "I've always been a great advocate for training. Having a company is not about hiring cheap labour, it's about committing to somebody else's future. 
"Many young people are really excited to be trained and to gain experience in the industry.  There is so much room for progression in the industry that everyone has a chance to prove their self.  True to his beliefs, Russ recently took on a deaf apprentice.  "He is no different to anyone else on the team; in fact, he follows instructions well and is a true asset to the company," says Russ. 
Russ owns Licensed Renovations in Auckland, and the business is involved in a wide range of residential renovations ranging from $50,000 to close to $1m.  Russ says, "There isn't much I haven't seen in my 35+ years in the building industry. If any of my apprentices don't know something, I need to be able to send them to the right job so that they have the chance to learn what they need and to sign those units off. It's a hands-on industry, and people learn by doing and practising. 
"My first boss, Peter Jones, formerly of Argon Construction, was a legend who gave me the foundation on which I've built my career. When I'm working with young apprentices, I think back to the knowledge that Peter passed on to me. You never stop learning or turn down opportunities, or think you know it all. Everyone is different, and you are learning from everyone all the time.
"Peter gave me an opportunity, and now I'm passing that same opportunity on to the next generation. My apprentices have good people beside them, so they know that they have highly trained people to support them. When one of my apprentices qualifies, I know they can go to any workplace in the country and match anyone else, in fact, a number of my BCITO apprentices have already progressed to run their own businesses successfully.
"For me, my employees are my business – they do the work, without them I wouldn't have a business. I put my trust in my team, trusting that they will get the job done and they always deliver.
"Outside of work I hold social events for the team, offer bonuses, and often share connections so they can build their own businesses or help them out in their personal lives with loans and financing. We have each other's backs and support each other."

Legend 'wise words'
an effective leader
needs to compromise.
a commitment to industry training means a commitment, not just to hire cheap labour but to growing someone else's future.
best business decision taking on apprentices.
life-long learning means never stop learning or turn down opportunities.  Don't think you know it all and be adaptable.
at the end of a tough week I go fishing.
in 5 years I hope to be doing exactly what I'm doing now.
Russell Clark, Licensed Renovations
View Russell Clark's story and more stories about other legendary bosses.
More News
NAWIC are delighted to have received a significant increase in entry numbers for their fifth annual Excellence Awards, this year in partnership with BCITO. Finalists have been announced today.
The Building and Construction Industry Training Organisation (BCITO) is pleased that the Government is moving quickly to establish the first construction Centre of Excellence (CoVE).