Twelve achieve Kitchen Installation micro-credential
Pranil Prasad is one of 12 people nationwide to complete the micro-credential in Kitchen Installation.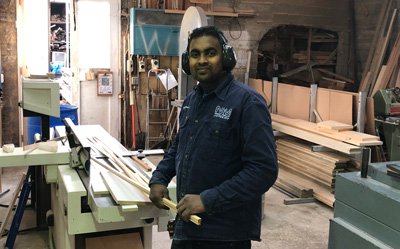 A micro-credential is a carefully chosen group of industry-specific skills packaged into a programme of 40 credits or less.   These small learning packages are designed for people like Pranil who, due to demand, specialise in an important but niche job. 
Pranil started his career in the manufacturing and installation of joinery cabinetry while working for Fiji Construction in Suva, Fiji.  As a part of his role with this company, he trained to read building plans and specifications, calculating the measurements from these for the production of cabinetry items. 
He also trained to carry out the process for cabinetry manufacture from the compilation of cutting lists from working drawings, cutting and machining all componentry, and the assembly of all cabinetry through to installation readiness. 
It was in Fiji that Pranil began to install the full range of cabinetry, including kitchens, laundries, vanities, and wardrobes. 
In 2016 he moved to New Zealand with his wife Shivangni Devi and began working at Nigel Molloy Joinery (NMJ) and, since then, has become one of the two leading cabinetry installers for the firm.  Often working on installations on a solo basis or with one of the apprentices as support. 
When BCITO offered Nigel and Wendy Molloy, owners of NMJ, Winton, Invercargill the chance to participate in New Zealand's first-ever specialised micro-credential trial, they took it and invited their staff to be part of this changing landscape.    
Pranil enrolled in the trial starting 12 March 2019 and officially completed on 20 July 2019, achieving his certificate in 93 working days!  A record achievement but not surprising as Pranil describes Joinery as his hobby, and second love to wife and son Kiaan.  
Malcolm Butler, a qualified Craftsperson Joiner, and Factory Foreman at NMJ decided to also enrol in the micro-credential in an effort to support Pranil - in for a penny in for a pound adding his name to the 12 people now having completed this programme.
Three projects were reviewed, demonstrating the breadth of Pranil's skill and knowledge across residential and commercial work.  These included the installation of bathroom, kitchen, and scullery cabinetry into two new homes in Bannockburn, Central Otago.  Additionally, Pranil was assessed on the fitting of a base plinth aboard the TSS Earnslaw to support the installation of new café cabinetry to a 106-year-old Kauri deck.
The assessment for this micro-credential certificate is 100% on the job, over a six-month term.  
BCITO training advisors Bill Cubitt and Tony Lemin jointly assessed Pranil and Malcolm.  They say the key to success in achieving this micro-credential is to plan, prepare and record. Not too dissimilar to a kitchen install unless, of course, the pipes have been plumbed to the wrong place. 
Pranil happily confirmed this to be the case adding, "It is my everyday job; the evidence BCITO needed just happened naturally." 
Nigel and wife Wendy are ambassadors of lifelong learning and believe short programmes like Kitchen Installation give staff that extra bit of confidence, it validates their skills and endorse the importance of what they do.      
Joinery assessors' nationwide look forward to chatting about how this learning package can help you or a team member like Pranil gain formal recognition of their specialist skills.     
More News
As free trades training starts, being an apprentice and training in trades have become so much more attractive.
WorkSafe would like to ensure that you are aware of the risks of working with engineered stone benchtops, used primarily in bathrooms and kitchens.