Variety contest
When James McDougall started working for Higgins Concrete, Nelson in 2016 he knew he had found a career for life.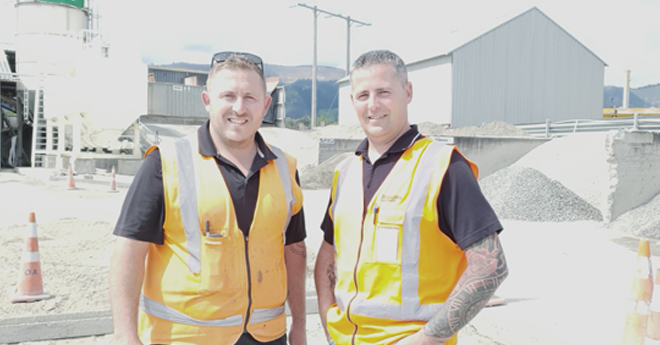 Now James has been working in the concrete industry for around three and a half years and loving it. Within the concrete industry James loves the variety of weather, the aggregate sources, mix designs and customer expectations which keep his days exciting and fresh. 
After a short 6 months working as a concrete lab technician and using the network of people around him, James has learnt quickly. Using his previous management experience he has been promoted to plant supervisor at his company, overseeing a team of 12 staff. James's goal is to be a great plant supervisor, mastering what he is taught and exploring new areas of knowledge and experience. Someday he hopes to take on the role of plant manager.
James' BCITO Training Advisor, Mark Blom, says that James is passionate, keen to learn and actively engaged in his work. He finds him proactive in his goal-setting and says that he "always demonstrates excellent skills and knowledge at his site visits. A team player, James is confident in his own abilities and is prepared to back himself". 
Plant Manager Bevan Muollo says that James is dedicated to learn and upskill himself. He says, "James shows leadership, responsibility, duty of care and exemplifies the company's focus on quality and service. He has earned the trust and respect of his workmates." In the 2019 ConcreteNZ Apprentice of the Year competition James received a 'Highly Commended' award.
To anyone considering a career in concrete production, James says, "Concrete production is a rewarding career with a massive range of skills and knowledge to learn. I have always struggled in careers as I get to a point where I have learnt everything there is to know in that trade, however, after three and a half years I still feel as though every day I am learning something new. Driving past jobs you have supplied to and seeing an end product that looks amazing is a great reward in this role. If you have a thirst for knowledge and a passion for being able to see what you have produced as an end result, go for it!"
More News
The Government has announced a $12.1 billion COVID-19 Economic Response Package for small to medium businesses and employees during this period of uncertainly.
The health and wellbeing of our industry's employers, apprentices, and our people are of paramount importance to us.