Variety is the spice of life
James Brown of G Miller and Sons Ltd in Nelson loves the variety that a career in Monumental Masonry brings.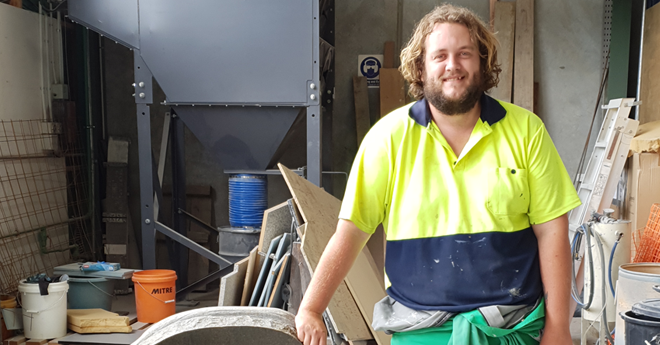 James has been working in the industry for around three years and says that every day is different.  From sales work to computer design, carving and shaping stone and intricate painting with gold and silver. His favourite aspect of the work is sandblasting to etch wording into the headstones and plaques. One of the largest jobs James has worked on was the restoration of the 14 ton Motueka Memorial which he and employer Patrick Day transported to their workshop. They cleaned, polished and painted it and added a new panel for the Anzac Memorial. Local people often bring in their own marble boulders to be shaped and inscribed!
Patrick is a fourth-generation monumental stonemason and has been in the industry for 30 years. He says that James helps out wherever he is needed and the team operates like a family.  He says, "James is good at maintaining the equipment and is proficient at polishing and sandblasting." 
Tracey Day, co-owner, says that James is good to work with, is very good with clients and has learnt to read people quickly. She says, "With direct cremation becoming more popular, people are not having the same chance to grieve. So James finds himself being part of the grief process, helping people come to terms with what has happened. His work is of a high standard and he has become very pedantic with getting the wording correct."
His BCITO Training Advisor, Mark Blom, says, "James is very laid back, has good practical skills and is great with customer service." James hopes to finish his apprenticeship by the end of the year and would like to train an apprentice himself in the future. He would like to see younger people coming through the trades but he believes that dealing with grieving families could put people off.
To school leavers, James recommends Monumental Masonry as an art-orientated career option that has a lot of skill and creativity behind it. 
More News
This is great news for the construction industry, we are currently working with the Tertiary Education Commission to confirm which BCITO programmes will be eligible for free fees.
PRESS RELEASE 14 MAY 2020 - Speaking today after the announcement of the Budget and the $1.6 billion Trades and Apprenticeships Training Package, Warwick Quinn, BCITO Chief Executive congratulated the Government.